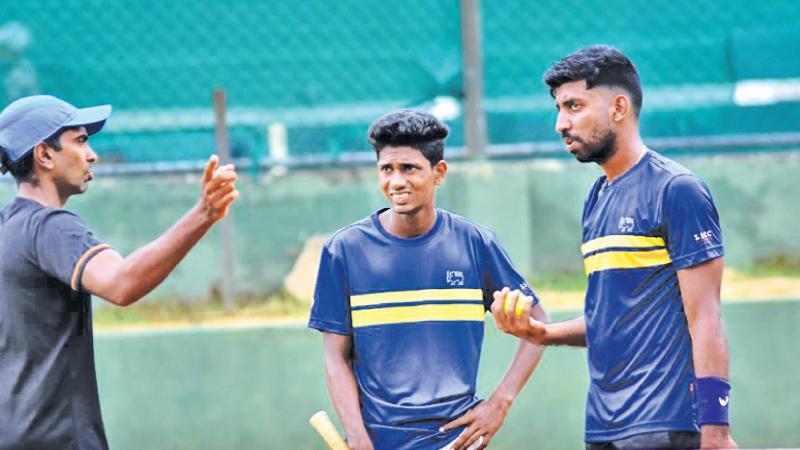 Sri Lanka's tennis team is pumped up and well prepared to meet all challenges that will arise at the Asia/Oceania group IV Davis Cup by Rakuten tie to be played at the Sri Lanka Tennis Association (SLTA) clay courts from August 8 to 13.
Only seven teams will visit Sri Lanka this time with Oman, Qatar and Macau pulling out due to reasons best known to them. The teams that will be appearing are Maldives, Brunei, Yemen, Kyrgystan, Bangladesh, Iraq and Sri Lanka.
"Sri Lanka got down three Indian players to spar against the Sri Lankan players during intense training sessions we had for the past month," said coach Renouk Wijemanne.
"Our players have participated in two futures ATP events and the minor league that would have offered them maximum practice in preparation for this tie. They have been fine-tuning to reach peak in time to meet their opponents in this group four event. It is good to have Harshana Godamanna with us as he possesses vital experience in the game having played for so long," added Wijemanne.
He said Sri Lanka have not decided on who will play in the two singles and the doubles matches as it will depend on their opponents according to Wijemanne.
The seven countries that will appear will be divided into two groups and the top two teams will play in the semi-finals and the winners in the final will be promoted to group three next year.
SLTA will prepare clay courts for this confrontation as it will only give the home team the advantage.
The Sri Lanka team consist Harshana Godamanna, Tehan Wijemanne, Yasitha de Silva, Chathura Nilaweera and Ashen Silva with Udith Wickramasinghe as the non playing captain.
Sri Lanka was able to obtain the necessary approval to conduct this tie due to the untiring work done by the Iqbal Bin Isaack the president of Sri Lanka Tennis Association. Otherwise it would not be possible considering the crisis situation Sri Lanka is facing and many countries being asked not to visit the country.