Juragan Savangam the former Police and Isipathana rugby player passed away on July 31, 2022 after a brief illness at the age of 74 years. The last rank he held while serving the Police was DIG.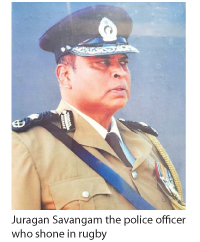 He started his schooling at Trinity College Kandy and switched to Isipathana College when the family settled down in Colombo. After being successful in the O/L exam he continued to study at Isipathana for his Advanced Level examination.
While at Isipathana he played rugby for the first fifteen team with distinction.
Being a popular figure in rugby the Police Department enticed him to join them.
He joined the Police in 1968 straight away as an Inspector and had no difficulty in becoming a regular member of their rugby team and played with prominence for a long period of time.
He is the elder brother of another prominent rugby player in Thajone Savangam who also played rugby for Isipathana and Havelocks with distinction.
They were both popular figures in the game of rugby. Unfortunately, Thajone passed away a few years ago of kidney failure. They both made their presence felt with their humorous stories whenever there was a gathering with friends and relations.
Juragan leaves behind his wife, two children and two grandchildren. (TBR)