There has never been a time where citizens could come to a common understanding that the success of an individual strongly depends on the foreground of the country's economic development projection. And inadvertently the development of any community or country strongly depends on individual contribution and values upheld by all such individuals.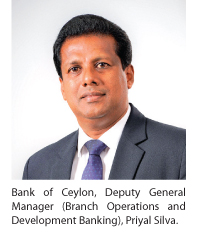 Addressing the pressing need to promote thrift and saving habits among Sri Lankans, the country 's No.1 Bank, Bank of Ceylon strongly encourages all citizens to engage with the banking stream in whatever way possible to build up their individual savings along with day-to-day thrift habits.
While encouraging all Sri Lankans for their contribution to the initiative towards building a financially secured future, the Bank extends an open invitation to take the advantage of its special deposit schemes that's designed to yield a satisfying and a secured return for their hard earned money during these volatile times.
Among a number of deposit schemes, Bank of Ceylon '100 Days Investment Scheme' has emerged as one of the unique and popular savings propositions among its customers and within the banking and financial industry. It offers a compelling value preposition to earn high and secure returns on investments within a period of 100 days. The bank has been continuously improving the deposit product with a view to extend the benefits of this unique investment opportunity to a larger population, while enhancing the benefits of this industry pioneering deposit product to its customers. Accordingly, this has been re-launched under three investment plans starting from a minimum deposit of Rs.500,000. The three investment plans include Rs.500,000 to Rs. 1,499,999, Rs.1,500,000 to Rs.2,499,999 and above Rs.2,500,000. The short-term investment opportunity presents a rare opportunity for the public to gain the maximum benefit of the prevailing high interest rate by simply placing their idling-money or savings that give lower return. Further, it also acts as a cushion for the public to protect the real value of their money under the current high inflationary environment.
Similarly, Bank of Ceylon has come up with a '200 Days Investment scheme' which can be opened with a Rs.500, 000 minimum deposit and comes with attractive returns and other benefits. The public can subscribe to '200 Days Investment scheme' in three investment plans that includes Rs.500,000 to Rs. 1,499,999, Rs.1,500,000 to Rs.2,499,999 and above Rs.2,500,000 in order to enjoy higher short-term return on their investments with guaranteed security for their deposits. For the investors who are looking to make higher returns over a longer time period,' BOC Double Your Investment' offers to double the investment within just a four year period. With a minimum of Rs.1,000, 000 investment, the public can join this scheme to double their investment at the end of four-year maturity period. Therefore, BOC Double Your Investment' in no doubt is the most attractive investment proposition for such investors for highest-yielding secure returns.
In addition, these deposit holders also have the opportunity of borrowing up to 90 percent of the deposited amount in this scheme, within the maturity period in order to meet unexpected and urgent fund requirements.
Bank of Ceylon Deputy General Manager (Branch Operations and Development Banking), Priyal Silva said that innovative deposit products are critical to cultivate and promote savings among the public in order to elevate their own financial well-being as well as the country's future economic outlook.
"Bank of Ceylon has always been a pioneer in cultivating and promoting the habit of saving among the public through various initiatives and programs over the time. Our main objective has always been on providing maximum benefits to the customer.
We took steps to introduce a range of innovative deposit products which includes '100 Days Investment scheme',' 200 Days investment scheme' and BOC Double Your Investment' special fixed deposit products in transforming the saving experiences of our customers. By placing their hard-earned savings in one of these special saving schemes, our customers will have the opportunity to successfully emerge from the current economic crisis and continue to calibrate to their life aspirations. At a macro scale, I believe such innovative deposit schemes will contribute to elevate the economic outlook of the country," he said.
Bank of Ceylon, the premier financial services organization in Sri Lanka, was also awarded the coveted title of "Bank of the Year 2021 – Sri Lanka" by "The Banker Magazine UK". The prestigious award was bestowed in recognition of the bank's contribution to uplifting the lives of all Sri Lankans, while fulfilling its duty as the premier state bank. This award adds yet another title to the multi-award- winning bank that has been listed in the Top 1,000 Banks in the World ranking, with a country ranking of No. 1, again by "The Banker" magazine, UK. Brand "BOC" is named as the No. 1 Banking Brand in Sri Lanka by Brand Finance (lk). The bank has been rated at AA- (lka) by the Fitch Rating (Lanka), which was reaffirmed in the month of July 2021.