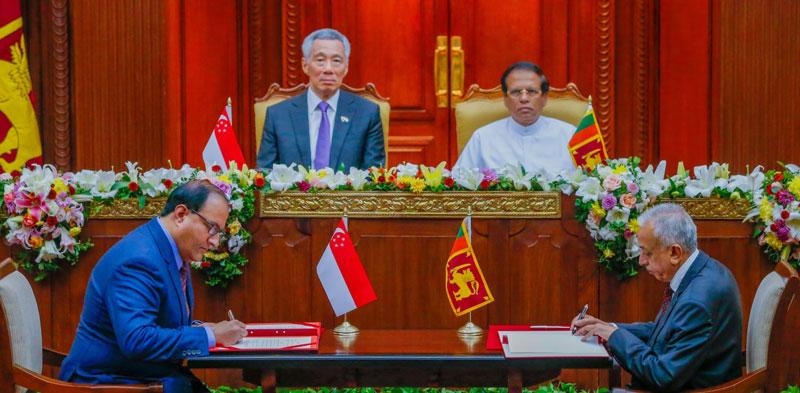 As an integral part of the new trade policy, while sustaining and ensuring growth in the two traditional major markets - the US and the EU, Sri Lanka will negotiate Free Trade Agreements (FTAs) with emerging South Asia and Far Eastern countries, thus linking to global production and value chains.
Sri Lanka embarked upon negotiations on FTAs with India, China and Singapore. The negotiations with Singapore were concluded and an agreement was signed on January 23, 2018.
Having conducted a feasibility study, a scoping session on a FTA with Thailand is scheduled towards the end of March. Feasibility studies on possible FTAs with Malaysia and Bangladesh will also commence soon.
In this background, the eighth round of negotiations with India on Economic and Technology Cooperation was held from February 21-23 in New Delhi.
During the ETCA negotiations special attention is made, to address implementation related issues arising out of the current Indo-Sri Lanka Free Trade Agreement (ISLFTA).
Hence a session is now devoted at every round for this purpose. A dossier on Non-Tariff Barriers (NTBs) based on submissions made by exporting companies are taken for resolution. These issues include delays in clearance of cargo, in particular perishable goods at Indian ports, varying state taxes, issues on certificates of origin issued etc. Consequent to these issues being taken up, perishable cargos are now expeditiously cleared at Indian ports and a number of company specific issues were resolved. This devoted session to address ISLFTA related issues has become a useful mechanism in the negotiation process.
The NTB dossier is not limited to issues that were taken up at the previous rounds of negotiations but are being updated with new issues which exporters bring to the attention of the Export Development Board (EDB), Department of Commerce (DOC) and to the Ministry of Development Strategies and International Trade. Thus, during the 8th round of negotiations, issues on excessive documentation authentication fees levied, tender procedures on ship building were also taken up for discussion. Exporters to India, are therefore requested to bring their issues to the notice of EDB, DOC and to this Ministry so that such issues can be taken up formally as a part of the ETCA negotiations.
While NTB issues in the dossier are being addressed in the negotiation process itself, as a long term solution,the ETCA will bring forth an effective permanent mechanism titled 'Structured Institutional Mechanism' (SIM) to address issues related to clearance of goods in the entry ports of both countries.
If a consignment of cargo is held up, the affected importer and exporter can bring it to the notice of 'Nodal Officers' who will identify reasons for delays, if any, and arrange expeditious redress.
In other words, cargo clearance and related issues under FTA/ETCA will be addressed in a time bound and transparent manner. This is a significant achievement as far as resolution of implementation related issues of the existing bilateral Free Trade Agreement ISLFTA through the ETCA process is concerned.
The draft annex on this mechanism, which will form an integral part of ETCA is at final stages and expected to be finalized soon.
It is recognised that Sri Lanka was not able to capture the full benefits of tariff concessions offered under the ISFTA due to non-tariff barriers such as non-recognition of certificates, delays, high-cost testing and the need for multiple test reports in the Indian market.
The government is approaching this critical issue during the negotiations through two parallel tracks. One is to negotiate a SPS/TBT Chapter, which will create an enabling environment and prevent the use of standards and regulations for trade-restrictive purposes. This will facilitate exports to India. A substantial progress was achieved in this track and negotiations are nearing completion.
Parallel to FTA negotiations track, Sri Lanka has started discussions with Food Safety and Standard Agency of India (FSSAI) to recognize a few Sri Lankan conformity assessment laboratories to test Sri Lankan food products and issue test reports confirming that they meet Indian food safety standards. As a result, FSSAI agreed to accredit at least 5 Sri Lankan labs and has already arranged a field visit to audit the identified labs, in March 2018. This mechanism is expected to address many barriers faced by Sri Lankan exporters and increase exports to India. The arrangement is intended to be expanded to the other areas of products such as electrical goods and equipment by entering into MRAs between the relevant regulatory authorities of the two countries.
The issue on exporters having to pay varying taxes and additional levies imposed by state governments, was an issue raised by many exporters. With the introduction of all-inclusive Goods and Services Tax (GST) by India where all taxes have been consolidated and will also now apply at state level as well. Thus, this issue is resolved. However, in order to provide information to Sri Lankan exporters and to clarify issues on exemptions, thresholds, calculation of GST etc. India has agreed to hold a seminar on GST in March for the benefit of Sri Lankan exporters.
One of the most important issues that are being taken up for discussion is removal of quotas on apparels and pepper. The current 8 million pieces quota is inadequate for large exporters to undertake a proper marketing plan to penetrate to the Indian market. Furthermore, Sri Lanka imported US $ 630 million worth of fabric, yarn and apparel from India in 2017 compared to Sri Lankan apparel exports of less than US$ 30 million. Negotiations aim at creating a win-win situation for both the countries by exploring creative solutions for expansion of Sri Lankan apparel exports to India as well as linking both countries to the global value chain.
On Rules of Origin, under ETCA, Sri Lanka is seeking flexible origin criteria. The originating materials from India incorporated in the production of goods in Sri Lanka will be considered to be originating in Sri Lanka, provided that such goods have undergone sufficient work or process in Sri Lanka.
Contrary to the requirement of a minimum domestic value addition of 25% of FOB value to the final exporting country in terms of the existing FTA, the new rule does not specify a minimum domestic value addition.
We believe that this relaxation will be a greater boon to source inputs from each other without resorting to third country inputs. As far as Sri Lanka is concerned this flexibility is set to create enhanced opportunities to further boost Sri Lanka's exports in the large Indian market considering the country's limited resource endowments.
The general Rule of Origin criteria under ETCA is likely to set at 35% domestic value addition and Change of Tariff Sub-Heading (CTSH) as against the 35% domestic value addition and Change of Tariff Heading (CTH) under the existing bilateral FTA.
On services liberalization, the Ministry has maintained a consistent policy and informed trade chambers and stakeholders that movement of natural persons (under Mode 4) particularly, movement of independent professionals will not be allowed and Sri Lanka will not undertake any commitment to open professional service categories such as medical, dental, nurses, engineers, architects, accountants and legal professionals.
Sri Lanka continues to maintain this position. However, a certain number of managers, specialists and executives who have experience of a minimum number of years may be allowed, linked to Mode 3 or investment under corporate transferees, subject to a maximum number of years of stay. Hereto, it will be limited in number and linked to employment being provided to Sri Lankan Nationals of the same category, on an agreed ratio.
On services liberalization in respect of construction, IT, maritime and other sectors the Ministry is holding consultations with stakeholders which will continue during the negotiation process and their views will be taken into account before undertaking specific commitments. It should also be mentioned that the labour market or Indian workers visiting Sri Lanka is completely outside the scope of ETCA and such issues are dealt independently under the Immigration Act.
- Development Strategy and International Trade Ministry press release