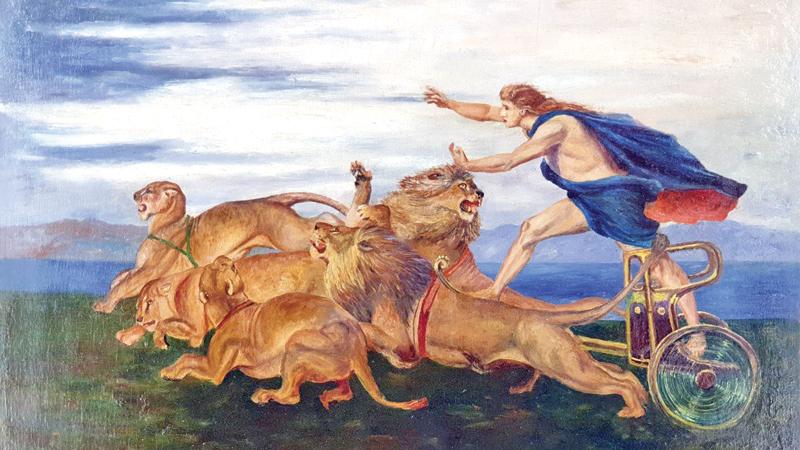 George Keyt, whose 30th death anniversary fell on July 31, was easily Sri Lanka's most distinctive, popular, and recognisable artist. In a career spanning 70 years he exhibited across Sri Lanka, India, Asia, and Europe. His fame eclipsed that of his colleagues in the 43 Group, barring perhaps Justin Däraniyagala, whose work remains more elusive. Indeed, the great John Berger, who thought highly of Däraniyagala, saw Keyt positively too.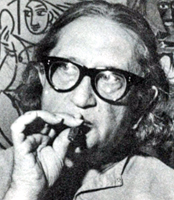 Keyt's intellectual formation began at Trinity College. Born to an Anglicised and Westernised Burgher middle-class, he remained a product of his time. Yet Trinity was by then undergoing a transformation under its principal, Reverend A. G. Fraser. Owing to Fraser, Keyt's stint at Trinity coincided with a period of intense change. Caught in the midst of it all, he could not escape it. He was, of course, hardly studious: he frequently enraged his teachers for not being attentive enough in class. But Fraser would rescue him from punishment. Recognising his limitations and his talents, he would allow him to spend time at the library.
Irony
Yet while he owed his career and, in a sense, his later life to it, hardly nothing survives of Keyt's career in Trinity College, of what he did and did not do there. The school Magazines, which date from the early 20th century, have pages and pages of articles and poems written by other distinguished past pupils, including Stanley Kirinde.
By contrast, almost nothing of Keyt exists. This may be because, not being very studious, he did not bother participating in literary activities or societies. What is ironic about this is that he originally aspired to be a writer. It was later, at the behest of Lionel Wendt, that he changed course. And it was Fraser who, at Trinity, inculcated the love of reading in him.
Keyt's choice of subject
Given all this, the apparent absence of any writing by him is confounding. Yet there is one work of his which survives in these pages, an article from the 1917 edition of the College Magazine. Titled "A Description of Briton Riviere's Picture, 'Phoebus Apollo'", it is a terse and succinct summing up of a late 19th century British painting depicting the eponymous Greek god charioteering among a pack of lions.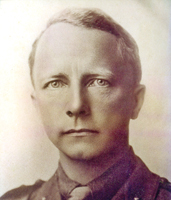 A.G. Fraser
Keyt delves into this painting and describes each aspect and element, and how they contribute to the unity of the composition. At the time he would have been 15 or 16: a fact that makes the essay, compared with most other pieces in the Magazine, stand out as a well-rounded, highly intelligent critique.
Keyt's choice of subject probably had to do with what he was reading and absorbing in the College Library around this time. He could draw from an early age, and he immersed himself in religious stories, myths, poems. Fraser not only encouraged his love of reading, but also recommended what he should be reading. In 1916, a year before his essay on the Riviere work appeared, Keyt exhibited his first painting at the Ceylon Society of Arts. The Society of Arts had been formed to pander to colonial tastes. Led by the likes of A. C. G. S. Amarasekara and J. D. A. Perera, it championed academic art, modelled along the lines of the Académie des Beaux-Arts in France and the Royal Academy in England.
One of the most sought-after illustrators of his day, Briton Riviere (1840-1920) came from a family of academic artists. Yet like many of the painters and poets Keyt read up on at the time, Riviere was influenced by the Pre-Raphaelite Movement. While his work was much admired and was even featured in Punch, the leading British magazine of the day, he was derided for being "more engaged with the artistic quality of his work than the subject."
This comes out in his depiction of Phoebus Apollo. Keyt seems to have grasped if not discerned that aspect to his work: "the attitudes of the lion, and even Apollo," he notes, "are precisely how the old Greek vase-painter desired them to be."
Different tradition
What is interesting about Keyt's article is that it predicts his later critique of academic art, a genre the Pre-Raphaelite Movement sought to transcend. While Riviere's family had thrown themselves into academic painting, Riviere himself drew from a different tradition as well.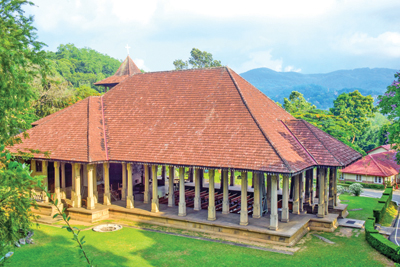 Trinity College Chapel
Keyt would doubtless have been pulled to his painting in the same way he was pulled to the poetry of Dante Gabriel Rossetti. These artistes championed a return to a pristine past that had existed before the Industrial Age. They found a great champion of their cause in William Morris. Not surprisingly, as Keyt dug deeper, he discovered Morris as well.
These poets and painters idealised a world that lay beyond their reach. Their vision of that world influenced and inspired several intellectuals, notably Ananda Coomaraswamy, whose writings on Kandyan art are no different to William Morris's championing of the Arts and Crafts Movement. Coomaraswamy's writings, particularly in Mediaeval Sinhalese Art, left a deep impression on Keyt's mind, pushing him to discover Buddhism through the Malwatte Vihara and later Hinduism through India. Riviere, in that sense, belonged to a tradition that resonated in Keyt's mind. Yet among the many poems he read and the paintings he would have sampled at the Trinity College Library, it is this painting that appears to have made him write about what he saw, barely a year before he left school.
Keyt's fascination with gods and myths began at Trinity College. Fraser's interventions were pivotal in moulding him, nurturing him, encouraging him. Long after he left school he was allowed back into the College Library. While not an active participant in school activities, he nevertheless opened his eyes to the changes which were unfolding at school. These included the College Chapel. A key highlight of the Chapel were the three murals of David Paynter. Influenced by the Pre-Raphaelites, Paynter exercised a fascination with the human form: not surprisingly, his paintings humanise the figure of Christ.
Keyt, on the other hand, preferred the larger-than-life, the otherworldly, the divine. It was this aspect to the Pre-Raphaelite Movement that got to him and made his later conversion to Buddhism and Hinduism easier. Indeed, it his admiration for Apollo which resonates in his essay: he hails him not just as the "God of light", but also "of beauty, strength, song, and all noble endeavours." Keyt is clearly in awe of the subject of the painting, his grandeur and his power, to which even the lions "are compelled to yield." While he temporarily sought refuge in Buddhism, it was his discovery of Hinduism, with its vast pantheon of gods, that made him revisit and rediscover this love for the otherworldly.
The 43 Group, of which Keyt remained a leading light, became purveyors of a tradition that had been lost to colonial middle-class vulgarism. In Tissa Liyanasuriya's documentary on the man, Keyt is described as revolutionary and reactionary: "revolutionary in his consistent struggle for artistic expression, reactionary in his deep homage to the creative vitality of the great and ancient Hindu and Buddhist tradition." The seeds of this dualism were planted in Trinity, where he threw himself into the poetry and art of his time. He was not a student in the conventional sense, and he hardly bothered himself with studies. But as his essay shows, he did not waste his time at Trinity either. As the only written work of his to be published in a College magazine, the essay therefore underlies Keyt's later evolution.
The writer wishes to thank the Trinity College Archives and the Curator of the Archives, Ms Thilini Dias Sumanasekera, for granting access to the College Magazines.
This article is dedicated to Uthpala Wijesuriya and Pasindu Nimsara, my assistants, with whom I continue to explore archives and historical sites across the country.
The writer is an international relations analyst, researcher, and columnist who can be reached at [email protected].