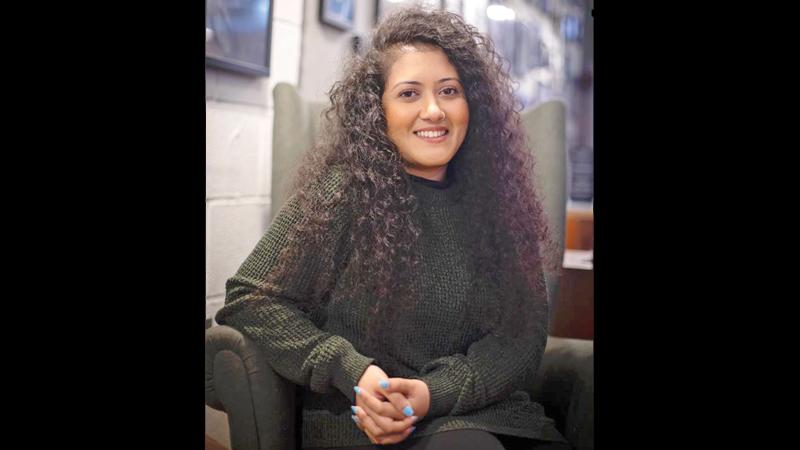 The West Meets East (WME) Screenplay Lab 2024 is inviting submissions from aspiring filmmakers in Southeast Asia, waving a remarkable opportunity to bridge the divide between the Western film industry and aspiring creatives from the East. This promising initiative stands as a beacon of collaboration, providing a platform for South East Asian filmmakers to showcase their creative projects and unlock a world of possibilities.
The third edition of WME Screenplay Lab is driven by vision of fostering regional cooperation and nurturing authentic storytelling in Southeast Asia. With a strong emphasis on catering to regional audiences and building a robust network of South Asian festivals, the lab aims to bring prestige to this vibrant part of the globe.
The impact of the lab is evident, as previous participants have achieved remarkable success and notable collaborations. The lab's monetary incentives, including cash prizes, play a vital role in recognising and further developing the selected filmmakers and their visionary projects.
In an interview with Sadia Khalid Reeti, co-convener of the West Meets East Screenplay Lab, The Sunday Observer explores the intricacies of this year's program and the captivating opportunities it offers to filmmakers from Southeast Asia including Sri Lanka. As she said, the third edition of the WME lab stands as a remarkable testament to the power of collaboration, spearheading a new era of cinematic brilliance that resonates deeply within South Asia and beyond.
Excerpts
Q: Could you provide more insights into the objectives and purpose of the West Meets East Screenplay Lab in bridging the gap between the Western film industry and filmmakers from the East?
A: The inception of the lab came from the idea of fostering increased regional cooperation. European film festivals have achieved great success by prioritising and championing their region, rather than seeking validation from other parts of the world. In contrary, due to lack of support at home, we often find ourselves constantly seeking validation from the West, even though they may have limited knowledge about our unique culture. This has spawned an array of inauthentic films made for eyes that couldn't detect the inauthenticity.
If we emphasise on creating a favourable environment in South Asia for filmmakers to make and display their films, we can begin to cater to the local audiences with artistic or entertaining films while building a strong network of South Asian festivals that brings prestige to our part of the globe.
Q: How do you envision the networking opportunities provided by the Lab, such as connecting South Asian filmmakers with international professionals such as producers, distributors, and programmers, contributing to the growth and exposure of regional cinema?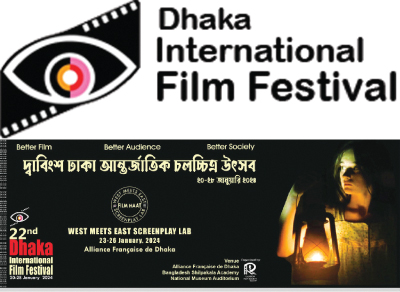 A: We try to provide the best resource persons we can afford. The volatility of the budget does pose great obstacles in the way of planning to bring more impactful or influential professionals. We hope to secure a fixed budget that will allow us the kind of growth we need to make bigger waves.
Q: What criteria and selection processes are employed to shortlist the projects for the Lab? Are there specific elements or qualities you look for in the submitted documents, such as the logline, synopsis, director's statement, treatment, and director's profile?
A: We are looking for projects that are important and timely. The topics and styles are not limited to any preconceptions. We expect the submitted documents to be professionally written so as to reflect the applicant's fervour and intent.
Q:Could you elaborate on the mentoring process during the West Meets East Screenplay Lab? How are the finalists mentored, and what kind of support and guidance do they receive to develop their projects?
A: Our lab is focused on the script. We invite the final 10 feature length fiction scripts to be mentored by experts from all over the world. All the mentors and judges read the scripts and give notes to improve. On the final day, a film market is arranged for the 10 finalists to pitch in front of industry heavyweights who join the Film Haat as their potential collaborators.
Q: Can you shed some light on the Film Haat, where successful participants pitch their projects to potential international collaborators? How does this platform facilitate collaboration and pave the way for future opportunities for the filmmakers?
A: Each finalist gets to pitch their project for 5 mins. This includes a 2-3minute video pitch as well as verbal pitch plus a multimedia presentation. The producers, distributors, OTT content heads hear the pitches, ask questions, have meetings with projects that intrigue them and take it from there.
Q: What impact has the West Meets East Screenplay Lab had on previous participants and their projects? Are there any success stories or notable collaborations that have emerged as a result of the Lab?
A: In the two editions of the lab conducted so far, the winners from Bangladesh have experienced notable success with their projects following their recognition and awards. For instance, Tamiah Afrin Mou's project 'Fear-y-Tales' was subsequently selected for participation in Film Independent's Global Media makers program. Similarly, Sara Hossain's project 'Song of Jhinuk' and its prequel titled 'Song of Whales' have secured full funding and are scheduled to be produced this year.
Q: Considering the cash prizes awarded to the top three projects, how do these monetary incentives contribute to the overall recognition and development of the selected filmmakers and their projects?
A: The monetary prize is a big incentive for South Asian filmmakers because opportunities are fewer in this part of the world. There are many regional awards that do not provide any funding. Filmmaking is an extremely expensive art and I believe any monetary incentive at the script phase is highly beneficial and empowers filmmakers to bring their creative visions to life.
Q: Are there any specific plans or strategies in place to ensure the long-term sustainability and growth of the West Meets East Screenplay Lab, both in terms of participant engagement and industry partnerships?
A: We have plans to see our selected projects in the big screen very soon. Our efforts are targeted towards following these projects all the way from script to distribution.
Q: How do you perceive the limitations faced by Southeast Asian cinema in the European film festival arena, where it is often recognised from an anthropological perspective rather than being evaluated based on character-based narratives more specific about human subjectivity? Furthermore, how does the WME screenplay Lab strive to address and transcend these limitations to promote a more diverse and nuanced representation of Southeast cinema?
A: It is unfortunate that we are encouraged to tell more "issue based" stories that portray us as needing external saviours to rescue us from our miseries. Maybe we do need help, but such films tend to have a pretentious way of desperate for attention. We ensure that the WME screenplay lab includes a diverse panel of judges and mentors, both local and Western, to provide a balance perspective, who can differentiate between the nuanced human stories and the overtly exotic sell outs.
Q: How does this initiative contribute to the overall landscape of South Asian cinema and the promotion of regional voices on the global stage?
A: We have already heard from other South Asian countries that they too want to implement a similar initiative. If we can all come under one umbrella and champion our own films, the possibilities are limitless. We may not have to look westward for validation if we come together. The tables can turn.
Q: Are there any future plans or aspirations for the West Meets East Screenplay Lab that you would like to share? Any new initiative or expansion on the horizon?
A: When it comes to expansions, the sky is the limit. We are looking to bring more investors on board. We have been trying to secure a permanent venue for the Dhaka International Film Festival. The lab would also benefit from that.
Q: Could you explain the application process for the WME Screenplay Lab?
A: Any filmmaker from the South East Asian region (Bangladesh, India, Nepal, Afghanistan, Maldives, Bhutan, and Sri Lanka) can submit a feature-length fiction project with the documents of Logline (50 Words Max), synopsis (400 words max), Director's statement (400 max), treatment (2000 Words max) and Director's profile.
Only the selected projects will be asked to submit a complete screenplay. The documents must be submitted to [email protected] by July 30th, 2023 (In one file; Word/PDF; Language requirements- English). Shortlisted applicants will be notified by August 31, 2023. They will be required to submit the full script by October 31, 2023.
Mentoring of the finalists will be done during the West Meets East Screenplay Lab and pitching that will take place at the Film Haat, during the 22nd Dhaka International Film Festival in January 2024.
After successful pitching, three projects will be awarded cash prizes: 1st Prize USD 5,000, and 2nd and 3rd Prizes USD 3,000 and USD 2,000. The submission deadline is July 30, 2023.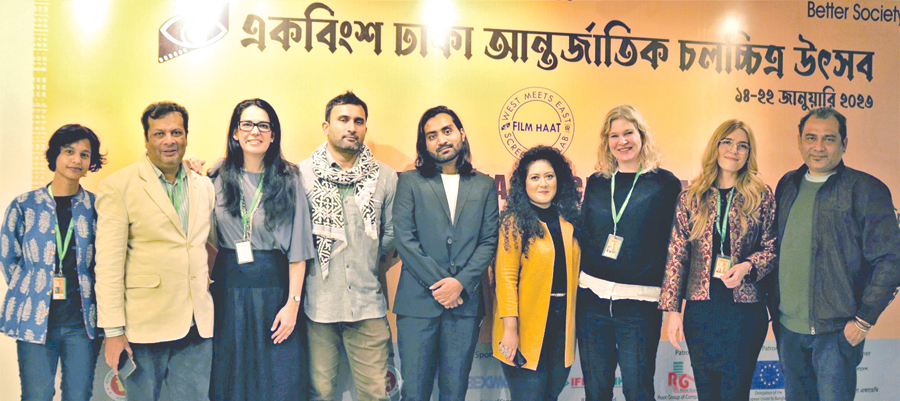 Winners and the Jurors of WME Screenplay Lab 2022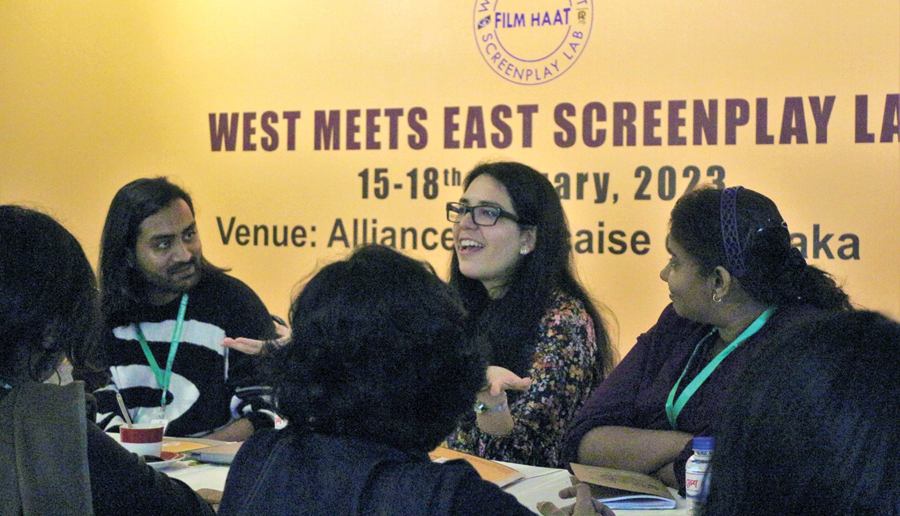 WME Screenplay Lab 2022