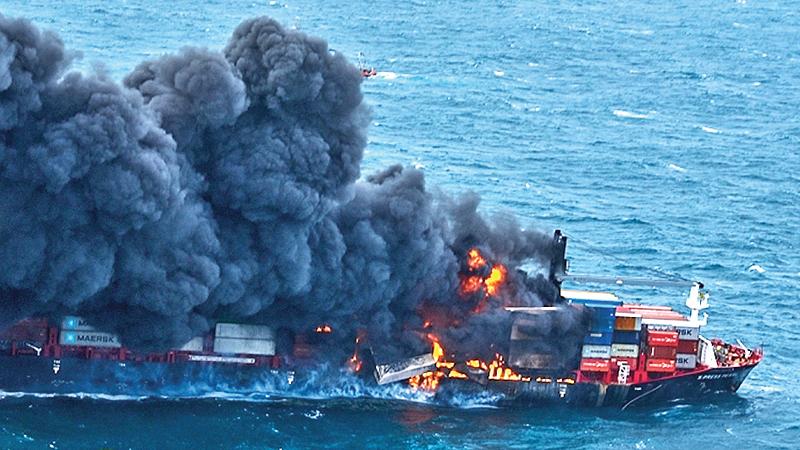 Civil society organisations and environmentalists yesterday criticised the main Opposition party, Samagi Jana Balawegaya (SJB), for their lack of commitment to seek justice for the X-Press Pearl maritime disaster.
They said that the SJB members should have taken significant action to raise public awareness about the incident and its consequences and added that their motives were primarily political.
Hemantha Withanage of the Centre for Environmental Justice (CEJ), said that since the sinking of the X-press Pearl on May 20, 2021, the SJB could have done more to gather information about the damage caused by the disaster from the affected stakeholders. They failed to exert enough pressure on the Government or assist in building a stronger case to claim damages, he said.
For instance, they missed the opportunity to engage and gather reports from organisations such as the Marine Environment Pollution Authority (MEPA), which assessed the environmental and social impact of the shipwreck, backed by an Australian law firm and the International Tanker Owners Pollution Federation Ltd (ITOPF), which provided consultations to MEPA and the ship owner.
MEPA was to file a case in the Supreme Court against the ship's owner within two years of the sinking to claim compensation, but the SJB did not advocate this avenue.
The environmentalists also criticised the Opposition for not mobilising public support to recover economic losses suffered by industries such as fisheries and tourism due to the incident.
A SJB spokesman, however, said the Party, led by Opposition Leader Sajith Premadasa, has independently filed a lawsuit in the Admiralty Court to recover compensation for the damage caused by the X-Press Pearl.
The lawsuit places the SJB among the growing list of parties, environmental pressure groups, and civil society organisations which have filed cases in local courts seeking justice for the ecological, social, and economic damage caused by the sinking ship.
The freighter sank off the country's West coast on May 20, 2021, with 1,488 containers, including hazardous goods such as nitric acid, oil, and billions of plastic pellets on board.
Following Cabinet approval, Attorney General Sanjay Rajaratnam, filed a lawsuit against the 'X-Press Pearl' owners inthe Singapore Commercial Court last month to recover US$ 6.4 billion in compensation claims.
The Opposition recently questioned why the Government did not file a lawsuit in Sri Lanka. Justice Minister Dr. Wijeyadasa Rajapakshe told Parliament that such a lawsuit in Sri Lanka could potentially jeopardise the country's chance of receiving compensation from the ship's insurer and owner, as the latter is reportedly bankrupt.
The environmentalists questioned as to what the SJB was doing for two years until the Cabinet appointed the Attorney General's Department as the litigant for the X-Press Pearl case.
Over the past two years, no political party took enough interest in attending to the 'X-Press Pearl' disaster until the Cabinet decided to appoint the Attorney General's Department to file a legal case in Singapore, said officials of civil society organisations.
A CEJ official said, "There was a lot of dithering between the Urban Development Authority, the Ports Authority, the Ministry of Foreign Affairs, MEPA, and the Fisheries Ministry about which of them should handle the task of claiming compensation for the impact of the shipwreck."