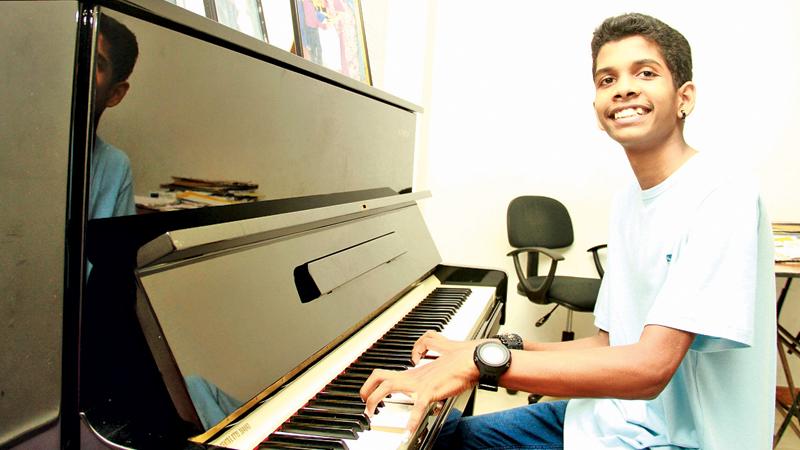 Music is a pleasant sound which is a combination of melodies and harmony. It is an art to reduce stress and improve our moods. Different styles of music can suit different moods. Music is a good source of inspiration.
Music has various genres such as classical, jazz, pop, folk and many more. Many people including children show their talents by choosing music such as singing, playing various musical instruments, composing and writing lyrics.
Sithum Perera is a young dynamic musician. The Junior Observer spoke to Sithum, to find out about his musical life and achievements.
Excerpts
Q: Tell me something about yourself and your family?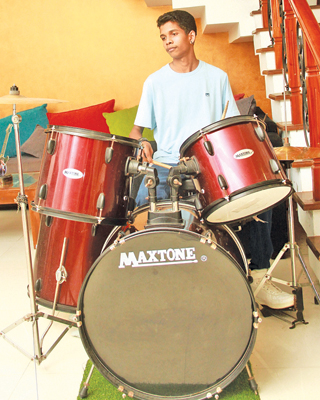 A: My name is Kothalawala Liyanage Sithum Perera. I study in Grade 11 at St. Joseph's College, Nugegoda. My father is Chandana Perera and my mother is Agra Perera. I have a younger sister, Nishadi Perera. They help and encourage me a great deal in my music.
Q: Tell me about your interest in music?
A: I started learning music when I was two and a half years old and I did my first piano exam when I was four.
I started singing when I was in nursery school.
I can play the piano, keyboards, lead guitar and rhythm guitar. I can also write lyrics and compose melodies.
The songs I have composed are Pansil Rakimu Api, Loku Heena Na Mata, Tharu Nonidaawee, Me Mahapolo Thale and Palui Mata Palui.
Recently, I completed a Music and Sound Technology Course at the Music Oven Institute.
Now, I am a member of the school's orchestra and band. I am also a senior choir member at the Umara Music Studio.
Q: What are your achievements in music?
A: I won the awards for Best Musician and Best Singer at my school's talent show twice. I also won the IWMS All Island Prize in the piano category in 2013, 2014 and 2017.
Q: What was the turning point in your musical career?
A: I participated in the Voice Teen Sri Lanka Music Talent Show Season One and I reached the knock out round.
There I met musical legends and I learned many things about the music industry.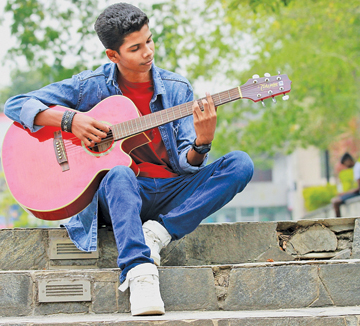 Q: What do you feel about your achievements?
A: I feel happy about my music and I will do my best in the future.
Q: Who helps you in achieving your goals?
A: My parents and my sister help me in achieving my goals.
My School Principal, Father Rector Lakmin Prasanga Silva, Vice Principal, Father Anton Sudaraka, all the teachers in school, especially music teachers-in-charge, Ishara Udayangana and Shehan Peter assist me.
Umara Sinhawansa, Nadeeka Guruge and Sanuka Wickremasinghe also help me tremendously. They are my mentors.
Q: What are your hobbies?
A: My hobbies are singing and playing musical instruments. Another hobby is playing cricket. Now, I am a member of the Under-17 Cricket team in my school. I like to thank my school Cricket Coach Viroshana Alwis too.
Q: What are your ambitions?
A: I like to be a singer cum audio engineer. Also, I hope to be a lawyer.
Finally, I wish to thank my friends around the globe for their support.
Mihi Deegodage
Pic: Dushmantha Mayadunne