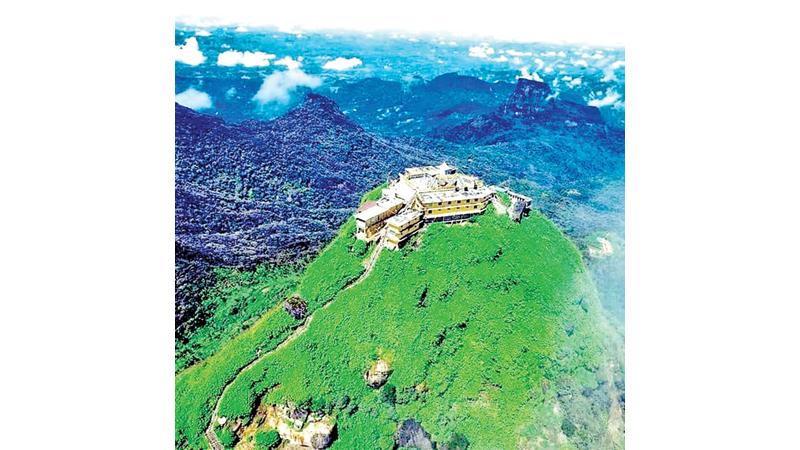 Sri Pada is a sacred, conical shaped mountain in the Ratnapura district of the Southwestern Province of Sri Lanka. It is special to Sri Lankans because of its religious, biological and climatic importance.
The Sacred Footprint
What is unique about Sri Pada is that Buddhists, Christians, Hindus and Muslims worship this holy mountain. Buddhists believe that Buddha's sacred footprint was imprinted here during the Buddha's third visit to Sri Lanka. The rainy season of the region is from April to December every year. Therefore, the Sri Pada pilgrimage season starts on the full moon Poya day in December (Unduvap Poya) and on Vesak Poya day in the following year.
Sri Lankans believe that the best season to go on the Sri Pada pilgrimage is from January to April. Hindus believe that the footprint at Sri Pada belongs to Lord Shiva. Christians and people of the Islam faith believe that it is the footprint of Adam.
There are many names for Sri Pada. The meaning of Sri Pada is the sacred footprint. The name Samanala Kanda is also a popular name.
Great biodiversity
There is great biodiversity in the Sri Pada wilderness.
There are many varieties of butterflies in Sri Pada. Early Sri Lankans believed that butterflies go on pilgrimage to Samanala Kanda to spend the last few days of their life.
Our pilgrimage to Sri Pada
We went on a pilgrimage to Sri Pada in April 2023. My cousins organised the trip. We started in the afternoon from Kandy. We prepared our food and packed as much as we can.
We got ready with heavy, warm clothing and shoes with a good grip.
We took icecaps with us and thick blankets. It was my first time. I was called kodu meaning a fresher. We passed Hatton and reached the foothills of Sri Pada.
Sri Pada is surrounded by exceptionally thick forests. It makes a thick, dark sanctuary for many animals and birds. This is a cool, misty forest. You may feel that you are in the Himalayas.
Giant trees hang heavy with moss. There are many rare orchids such as the Regal and the Chandraraja which grow in the dark moist loam. Sri Lanka's famous spices have long been grown there. The Arabs believed that these sweet spices grew from cuttings and seeds which Adam brought with him from Paradise.
A six-hour climb
We took about six-hours to reach the peak. It was cold and we drank hot tea. By the time, I neared the peak, I was breathless. I had to take a medicinal inhaler too. The pilgrims reach the peak and stay for the sunrise and traditionally it is called the Ira Sewaya.
We worshiped the sacred footprint. There is a bell installed for the pilgrims to ring.
I was not supposed to ring the bell as it was my first time. But I can ring the bell once during my next visit to say that I have visited once before.
It was exhausting to climb down. Our legs were hurting. When we got home it took a few days for our legs and feet to heal. But it was a wonderful experience of hiking on a pilgrimage and exploring the environment.
Pahanma Liyanage
Grade 6
Lyceum International
Nugegoda