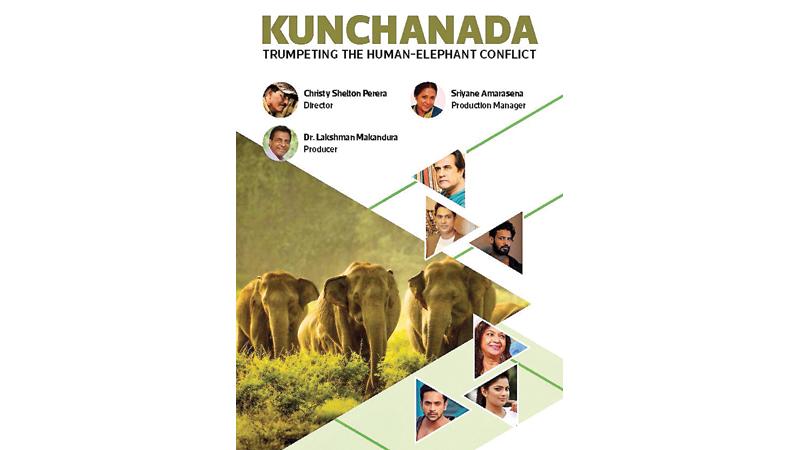 Dr. Lakshman and Thusitha Makandura's teledrama "Kunchanada" is being telecast on a private television channel.
Shot on location, award-winning Sri Lankan director Christy Shelton's  Kunchanada  tele series grapples with the rough currents of the elephant-human conflict enacted daily on the rural landscapes of Sri Lanka.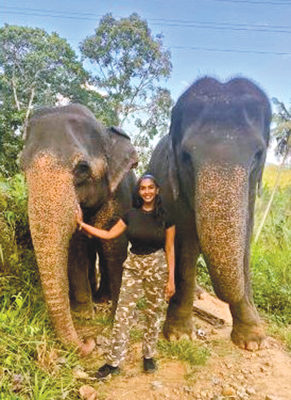 Sarah with her gentle giants
The story unfolds when a young woman returns to Sri Lanka in search of her father and the pet elephant she left behind as a child. She is now returning from her home in the United States. While searching for her father and the elephant, she meets a man who is on a similar quest, albeit aiming to take revenge; he is searching for the elephant who killed his father.
However, unlike most conventional tele series, Kunchanada subverts the archetype of the theme of romance with a happy ending. Instead, the narrative explores two seemingly different themes; the conflict between man and beast and the raging battle with human emotions that run deeper than mere words and actions.
This complexity is largely conveyed through the beautifully nuanced performances of the male and female protagonists and the breathtaking cinematography that captures the windswept beauty of Rambukkana and Galgamuwa, the center of the human-elephant conflict into a picture-postcard composition. To the diligent viewer, Kunchanada will soon reveal itself to be so much deeper, to the credit of its scriptwriter Aruna Premaratne.
This timely yet timeless story is so wonderfully told through Indika Atthanayaka's expert lens, accompanied by music director Kapila Poogala Arachchi's cascading score; it is easy to soak in the story's emotions, the naturalistic performances of a legendary cast led by Sriyani Amerasena, and the familiar sounds of Sri Lankan villages.
Underlying emotions
Kunchanada fits snugly into the subgenre of stories that reconsider timely issues through a strikingly new lens. The movie never allows the protagonists access to the other's thoughts and feelings, reflecting the issues of relationships in real life. Instead, the characters, including the elephants, seem constantly caught between their mundane realities and the underlying emotions, the most profound feelings of affection, anger, and fear common to all living beings. Kunchanada is, therefore, a balancing act between the superficial and the real and an examination of how a contemporary issue in Sri Lanka can expose the viewer to remarkably deep issues of morality, faith, and love.
For the producers, it is well worth the effort, not only because it presents the human-elephant clash that is presently consuming the attention of Sri Lankans discreetly and with elegant simplicity but also because it is certain to be a landmark of Sri Lankan teledramas. Only a few films from Sri Lanka reach Western audiences. Consequently, the producers planned participation in the Sundance film festival in Utah and efforts towards becoming a part of the NetFlix family of movies are sure to give long-due exposure to Sri Lanka. A must-watch for movie lovers, wildlife enthusiasts, and Sri Lankan expatriates.