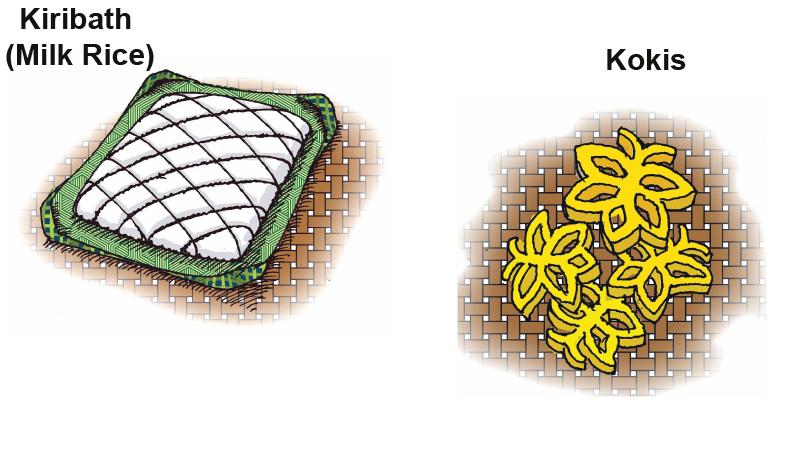 Kiribath  (Milk Rice)
Ingredients
½ measure country rice or raw rice
2 teacups thick coconut milk
Salt

Method
Boil the rice as usual, and when the water is all absorbed but before the rice becomes grainy, add the coconut milk and salt and stir well with the handle of a kitchen ladle. Cover the pot and allow to boil on a slow fire until the milk is absorbed, when the rice will be ready.
For Coppa Kiribath (Cup Milk Rice), rinse out a seenakku cup with coconut milk and fill it with the milk rice, pressing it in somewhat, and make a depression in the centre with a finger. Fill it with pani pol and cover up neatly with the rice. Turn out of the cups.

 
Kokis

Ingredients
½ measure rice flour
2 teacups coconut milk
½ tablespoonful sugar
2 eggs
Salt
Oil for frying

Method
Put the flour, sugar and salt into a basin, add about half of the coconut milk and mix to a smooth paste. Beat up the eggs and add them to the batter and also the rest of the milk gradually. Beat all well together until perfectly smooth. It should be thicker than a pancake batter. Have ready a deep, round-bottomed pan of boiling coconut oil. Take a kokis mould and dip it into the oil to make it ho t. Then dip it into the batter taking care not to let the batter cover more than three parts of the mould. Plunge it into the hot oil and fry for a few minutes. Then slip the kokis out of the mould by shaking it a bit and let the kokis cook a minute or two longer to brown the inside. Drain on paper. The kokis will keep crisp in an air tight tin.

(The sugar can be omitted or both sugar and eggs, in which case a little more coconut milk will be necessary.)