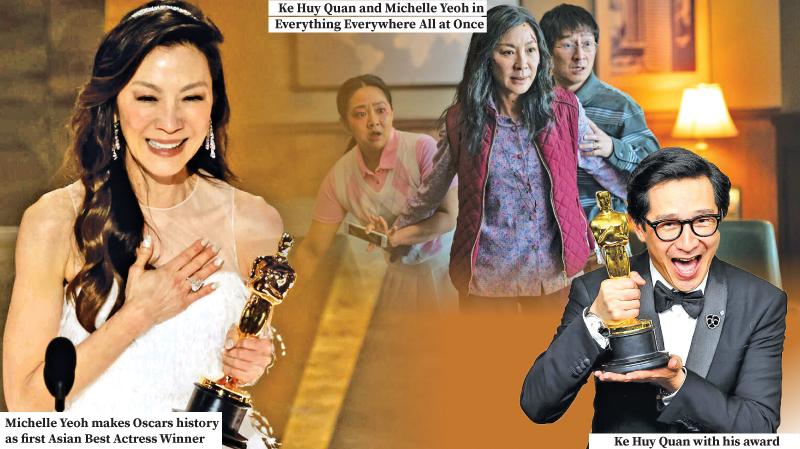 T he 95th Academy Awards will go down as one of the more memorable ceremonies in the event's long, arduous, often controversial history. With seven Oscars, the highest for any film since Slumdog Millionaire – another film with Asian settings and characters – Everyone Everywhere All At Once topped the night, setting a milestone for Asian cinema at a time when diversity has become a mere catchphrase and a favourite target of the anti-wokeist brigade.
The film has won rave reviews from every corner, though it has its share of critics as well: among them, the historian Simon Schama, and the screenwriter Paul Schrader. But regardless of its merits, its Oscar triumphs signify something significant.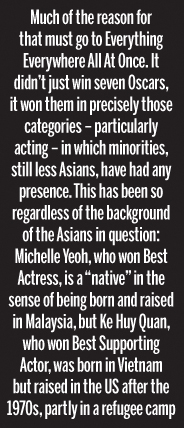 To say this is not to overlook its merits and limitations. Like Don't Look Down, Everything Everywhere All At Once is polarising: either you like it or you don't. Yet there's much in it to recommend it. The plot is hardly innovative, but it's fun to watch. The cast, whose talents have been lauded for the last 30 years, but have never been recognised or awarded, give their best. James Hong, for instance, has never been more exhilarating, and you can see Jamie Lee Curtis and Michelle Yeoh pulsating with joy and exhilaration in almost every frame and sequence.
It's a veritable hotchpotch: there's something in it for everyone. The editing can be messy, though that is, I think, the point of the story: one can't expect a comedy film about parallel universes to be anything other than disjointed.
Progressive development
Diversity should not be applauded for its own sake: it is a progressive development, yet it must reflect what is happening elsewhere. On that basis, the recently held Oscars were a triumph of form and values. Asia scored big time: this is the first time four Asians have won statuettes in one sitting, and the first time a Black woman (Judy Carter) won two. Much of the reason for that must go to Everything Everywhere All At Once.
It didn't just win seven Oscars, it won them in precisely those categories – particularly acting – in which minorities, still less Asians, have had any presence. This has been so regardless of the background of the Asians in question: Michelle Yeoh, who won Best Actress, is a "native" in the sense of being born and raised in Malaysia, but Ke Huy Quan, who won Best Supporting Actor, was born in Vietnam but raised in the US after the 1970s, partly in a refugee camp.
Such differences may seem trivial, but they are profoundly important. They are of the sort that get reflected in speeches and statements. And at the Oscars, they were: thus while Yeo's speech directly addressed the possibility of more Asians, and presumably minorities, winning it big at such events, Quan's speech addressed his experience as a refugee, more or less extolling the "American Dream." But again, such origin stories do not alter the fact that those of Asian heritage – and not just East Asian heritage – were recognised, and applauded, for their work.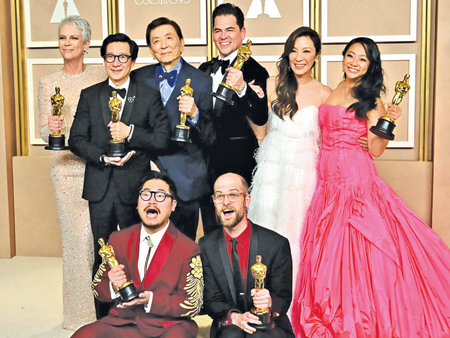 Oscars 2023 highlights: Everything Everywhere All at Once sweeps Oscars
Such achievements are all the more laudable when you consider that East Asians have been a discriminated group in the West, particularly in the US: the internment of Japanese-Americans during the Second World War, and the outpouring of racist vitriol against Chinese-Americans – and East Asians in general, who very often get conflated with Chinese people – is a stark reminder of what they have been subjected to.
Privileged minority
It's a different story with South Asians. I can't speak in relative terms, but regardless of comparisons with East Asians, South Asians are a privileged minority in Western countries, particularly in the US. One can cite several reasons for this, among them the influx of South Asian emigres from African countries – where they held positions of power, as traders and intermediaries between the indigenous population and the colonial government – in the 1960s and 1970s.
This, coupled with an explosion of interest in South Asian culture and an explosion in expatriate writing after the 1980s – thanks to writers like Hanif Kureishi – has ensured a popular base for South Asians at the level of popular culture. Orientalism, after all, has been most pronounced in this region: for many Westerners, South Asia represents the epitome of Asia's exoticness. Yet even against such a backdrop, the region has not won it big at events such as the Oscars: not even after Ben Kingsley, who is British but of Indian descent, clinched Best Actor for his portrayal of Gandhi in 1982.
Since Kingsley's win, several important, exciting developments have unfolded across South Asia. A. R. Rahman's win, for his music for Slumdog Millionaire – a film that shatters all Western romantic notions of India, and by extension the rest of the region – Bollywood, the mainstay of South Asian cinema, has ceded more space to regional cinema, particularly in South India. Of course this development has been a long time coming: even at the height of the Bollywood Renaissance, in the 1960s and 1970s, regional cinema had its spotlight. Yet it has taken this long for regional cinema to secure that on the international stage. That is why RRR's win, for its title song Naatu Naatu, is so important.
Musical film
RRR is a remarkable achcharufied objet d'art on its own right. One can call it a musical film, insofar as it features songs and dances. But it is a portmanteau of several other genres: it is, more than anything else, a critique of British colonialism, and a somewhat typical love story. But its ramifications for the Indian film industry cannot be denied: on two occasions, before and after its Oscar win, Indian Prime Minister Narendra Modi congratulated the cast and crew, and in particular the composers. Indeed, RRR's wins indicate what has been heralded and known for quite some time: India's rise. India may not be consciously using its cultural industries to exert its influence, but it doesn't matter: its cinema has travelled far.
As far as the Oscars go, the difference between South Asia and East Asia is clear here: while the latter has been recognised, however marginally, by the Academy, the former has not been properly given its place until now. This is the frame through which we should view the Oscars this year. The Academy has laid down strict criteria to ensure greater diversity in its shortlists. Against that backdrop, it is only inevitable that Indian cinema, more than films like Everything Everywhere All At Once – which, for all its East Asian cosmetics, is an American product, unlike 2020's Parasite – should be getting the spotlight it deserves, after 15 years. This has been a long time coming; that it has come is to be welcomed.
The writer is an international relations analyst, researcher, and columnist who can be reached at [email protected].