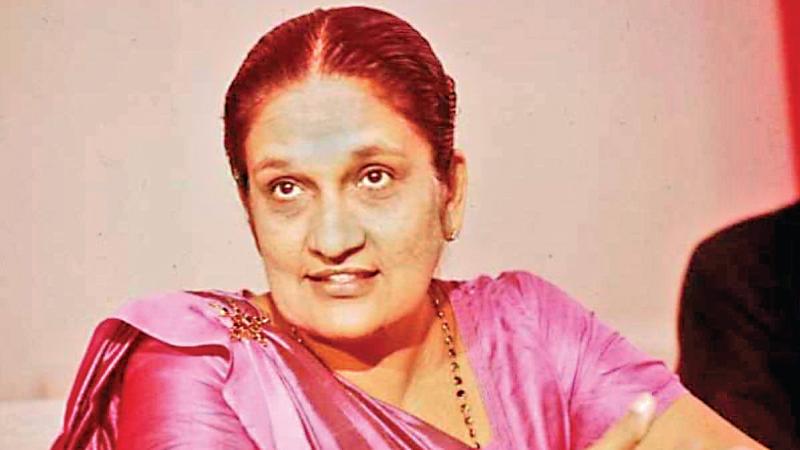 Sirima Ratwatte Dias Bandaranaike (1916-2000), popularly known as Sirimavo Bandaranaike is written in the history books as one of the most influential female politicians in the world. Renowned as the first female Prime Minister in world history, she served thrice as Prime Minister, from 1960 to 1965, 1970 to 1977, and 1994 to 2000.
Hailing from a family which was involved in the political administration of the island and marrying into another such family, Sirimavo Bandaranaike was exposed to the world of politics from an early age.
Early life
Sirima Ratwatte was born into a Sinhalese Kandyan aristocratic family at Ratnapura.
Her mother was Rosalind Hilda Mahawalatenne Kumarihamy, an informal Ayurvedic physician, and her father was Barnes Ratwatte, a native headman (bearing the position Rate Mahatthaya) and politician.
Sirima was the eldest child of her family - she had four brothers, Barnes Jr, Seevali, Mackie and Clifford, and a sister, Patricia.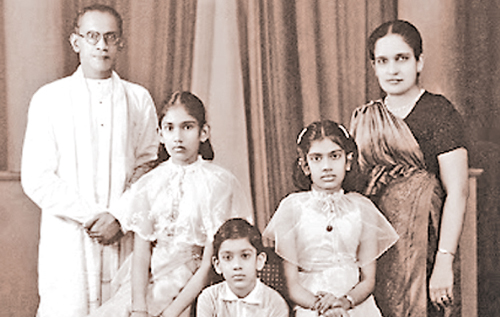 She was educated in English-medium schools including Ferguson High School, Ratnapura and St. Bridget's Convent, Colombo 7, but remained a Buddhist and spoke Sinhala as well as English.
Sirima accompanied her father around in the district, and during the droughts and floods followed by a deadly malaria epidemic, she took care of the sick with her mother.
Sirima joined the then Ceylon's largest Buddhist women's organisation, the Lanka Mahila Samithiya in 1941, and worked actively to improve the economic and social conditions in rural areas. In particular, she helped to increase the crops of rice fields, strengthen women's education, and to spread knowledge of family planning.
She spent nearly twenty years as a member of the LMS, moving up from being its Treasurer for eight years to Vice President for two years and finally President, the post from which she resigned upon her election as Prime Minister in 1960.
Sirima was persuaded by members of her late husband's party, the Sri Lanka Freedom Party, to take on the role of her husband,
S.W.R.D. Bandaranaike who was assassinated in 1960, and she ran in the July 1961 election in which a landslide victory was achieved for the SLFP. Sirimavo Bandaranaike was sworn in as Prime Minister of Sri Lanka known then as Ceylon on July 21, 1960. It is said that the British press had to coin a new description "Stateswoman" instead of the usual statesman after she assumed office.
Economic policies
Bandaranaike carried on her husband S.W.R.D Bandaranaike's program of socialist economic policies, neutrality in international relations, and the active encouragement of Buddhism and of the Sinhalese language and culture.
Her government nationalised various economic enterprises and enforced a law making Sinhalese the sole official language.
A major event in her political career was the hosting of the Non-Aligned Summit in 1976.
In 1980, the Sri Lanka Parliament stripped Bandaranaike of her political rights and barred her from political office due to allegations of corruption during her tenure as Prime Minister, but in 1986 President J.R. Jayewardene granted her a pardon which restored her rights.
She ran unsuccessfully as the SLFP's candidate for President in 1988, and after regaining a seat in Parliament in 1989 she became the Leader of the Opposition.
In the parliamentary elections of August 1994, her daughter Chandrika Bandaranaike Kumaratunga became Prime Minister, and in November of that year she won the presidential election over the UNP candidate, becoming the country's first female President. Chandrika appointed her mother, Sirimavo Bandaranaike, to serve as Prime Minister in her new government.
S.W.R.D. Bandaranaike's family rose to great prominence in Sri Lankan politics. Sirima's children, Anura and Chandrika rose to prominence within the Sri Lankan Parliament. Chandrika Bandaranaike Kumaratunga became the second female Prime Minister, as well as the first and only female President of our country. Anura Bandaranaike held the position of the Speaker of the Parliament of Sri Lanka.
Twilight years
Sirima's failing health forced her to resign her post as Prime Minister in August 2000. Bandaranaike died on October 10, 2000 of a heart attack at Kadawatha, as she was heading home to Colombo.
She had been casting her vote in the parliamentary election, which had been held that day. Sri Lanka declared two days of national mourning.
Bandaranaike's remains lay in state at the Parliament, and her funeral took place at Horagolla, the Bndaranaike family estate.
In addition to her three children, Sirima left two grandchildren, Yasodhara and Vimukthi Kumaratunga, children of Chandrika and actor/politician Vijaya Kumaratunga.
– Dinara Thuljan Hettiarachchi
Grade 9
Ananda College
Colombo 10