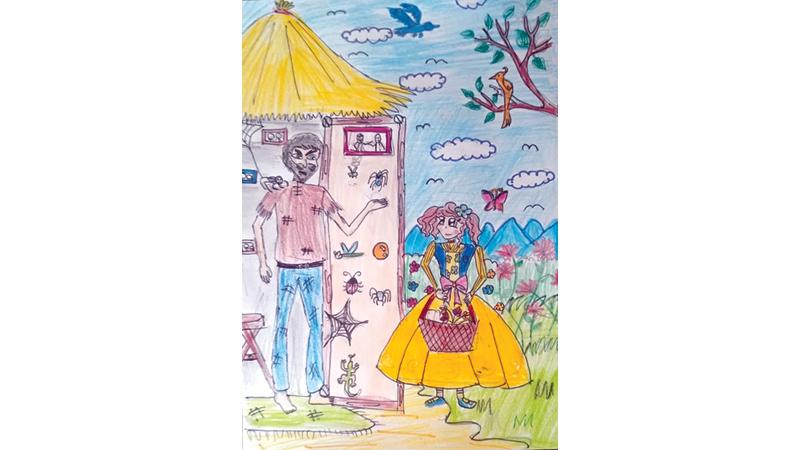 As the sun rose in the East, Franksten sighed. Ever since his dear brother passed away he had turned towards the darkness. His heart was heavy and full of sorrow and his life didn't seem worth living.
When his brother was alive they were so very close to each other. Franksten could remember his brother saying, often, "We will always stick together, through happiness and sorrow no matter what."
Haze of misery
Franksten's parents died when he was very little, so his brother was all he had had. But now his brother too was gone. He didn't like meeting other people as it only brought him great pain.The days flew past in a haze of misery and darkness. He liked it when the day was at a close as it was another day to live without his brother.
In a village near Franksten's cottage which stood on an isolated hill, there was a little girl whose heart was full of sympathy. While the other villagers called Franksten," a dreadful old beast who hated people", the little girl whose name was Nora felt sad for the old man.
Nora visits Fraksten
One day in spring, when the flowers were in full bloom and the sky was as blue as forget-me-nots, Nora walked to Franksten's house with a basket full of freshly baked bread and a bunch of lovely flowers. The house was old and rickety, but with great determination Nora knocked on the door.
Nora expected the man to be an old hunchback, whose face was sour. To her surprise, she met a man with ocean blue eyes and a kind, wrinkled face who opened the door to her.
"What do you want?" he growled.
"I am Nora, from the village close by. I brought you these," she said as she gave the basket to him.
His face grew bright as he realised that the little girl cared for him.
"Thank you, Nora. Would you like to come in for some tea?" he muttered. He felt that he should try meeting some people and he knew this little girl was a person he could trust.
A drastic change
Every day after that, Nora visited the old man. Little by little, they developed a close bond and Franksten became happy again. A drastic change could be seen in him. Now, the he often went to the village and the church. He spoke to people and people welcomed him cordially for dinner and tea. He was finally consoled after losing his brother and it was thanks to Nora's love. In turn, he cared for Nora like a father.
A great lesson
One evening, when, Franksten and Nora were sitting in a park, Franksten said, "I learnt a great lesson from you, Nora. Love heals loss. Yes, people die everyday and we weep over them, but we have to move on in life for they are not truly gone, they're still here, here in our hearts. And you helped me move on, your love truly healed my loss."
Illustrated by
Sithulini Wijerathne