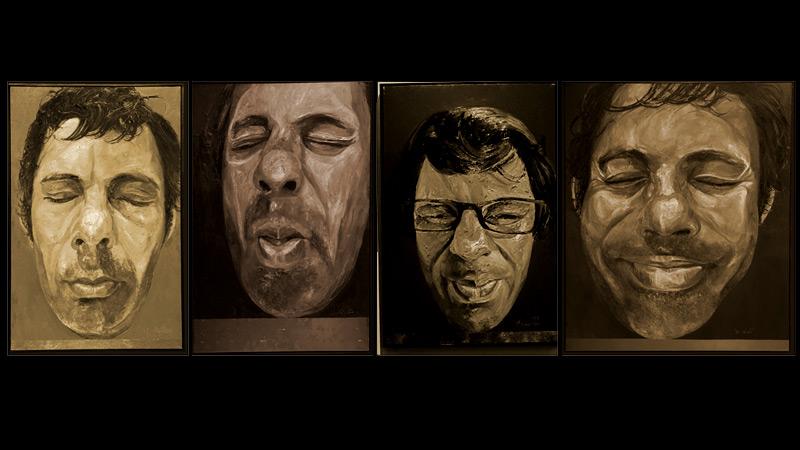 The achievement of well-received realist painter Dileepa Jeewantha has not so much been to break new ground but his strenuous struggle to dig relentlessly deeper into his own soul.

His brief, yet, very vibrant involvement in the art exhibition arena with his strong expression of inner struggle marks a remarkable presence.
By doing so, he has strengthened and broadened the viewer's understanding of figurative paintings' familiar characteristics, while challenging them at the same time and opening up new dimensions to his subject. 
Among these familiar characteristics are the artist and model relationship, figure and its interior life, philosophy of the artist and the gruelling process of seeing and painting reality and, finally, the place of the viewer in it all. In Dileepa's latest artistic encounter 'My Golden Line', they all consciously merge exquisitely and his descriptions of the paintings are bold and witty.
My Golden Line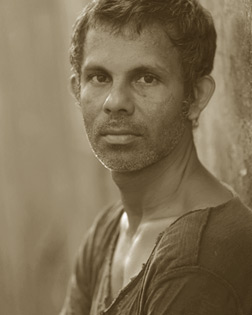 His face has been his artistic subject as well as an object for some time. In 'My Golden Line' Dileepa has managed to a great degree by painting his own face, to capture his deep, unspoken emotions, while equating flesh with oil paint.
His vivaciously worked canvases portray different dimensions of his own face that aggressively conveys the unbearable realities of life. His solid young flesh weighed down by life experience, unbearable tolerance and timidness tells the harsh yet intense story of an artist in a pragmatic society.
'I want to laugh!', 'I can't smile because I try to live the truth!', 'Not all smiles show happiness!', 'Happiness is created by balancing hope!' are some of his witty yet too deep lines that he throws on his viewers on social media relating to his 'My Golden Line' regularly.  
Dileepa's tenth solo exhibition 'My Golden Line' is a fair example that shows the effort required to get the painting painted. His rough, slathered, liberal brush strokes that expand generously on canvases offer unsparing views of flesh, thick and bent or stretched thin visible bones of his face that are confused, sad, thoughtful or blank. Each portrayal displayed is sensational yet intensely remains unapologetic of his expression. Nevertheless, it is quite evident the artist's enormous respect for his model - his own face, but arrested its emotions completely leaving no place to hide.
As Dileepa describes in his artist's statement his face holds the key to his unspoken soul.  Being a trained visual artist, paint is his medium to unlock his 'truth' in life.
"Paint always talks to me but I can't understand what it's asking. But I know that it always teaches me how to live in the truth," Dileepa said.
After unsparingly strenuous expression of each realistic portrayal, Dileepa has made a line of golden leaves that describes the truth he learnt during the process of digging into his soul.
Walking through the gloominess of the Paradise Road Gallery, the viewer may encounter more of his raw and brutal impression of life.
The commonness of 'My Golden Line' is his oddly calm, tightly shut eyes, but they are metaphorically open to the truth of his soul. It seems his willful ignorance of being truthful in life may be symbolised by these eyes tightly shut.
However, whether he's just an illusion or staring at us, open-mouthed and closed-eyed, the great self-dramatist remains curiously unknowable.
Early career
Dileepa Jeewantha has been doodling and drawing since his childhood. Initially it was chalk doodling on the floor and every inch of the walls of his house. As he grew older his obsession towards art drove him to dig on the subject and he learnt visual arts inside and outside of visual art schools.
Dileepa holds a higher national diploma in multi-disciplinary design at the National Design Center and from 2003 to 2006 with greater success of certificate course in painting he followed under the mentorship of Professor Chandraguptha Thenuwara at the VAFA Academy, he evolved as an artist with a love for oil on canvas.
His early career as a painter was influenced by abstract art but his often stark and alienated paintings later on drove towards realism. Dileepa identifies himself as an intensely private and reserved man who likes to hide his true emotions and brutal critic towards the pragmatic society in his day-to-day living. However, as he says his paintings are the mirror of his soul.
Given his outlook on life, his constant search for the meaning of his existence and his scepticism towards conventional social institutions and norms, one could deem him as being an Existentialist. But Dileepa likes to call himself an artist looking for meaning in life, his life in particular. In his early works, he painted his wife, his newborn baby and family members.
'My Golden Line' is at the Paradise Road Gallery until October 6.