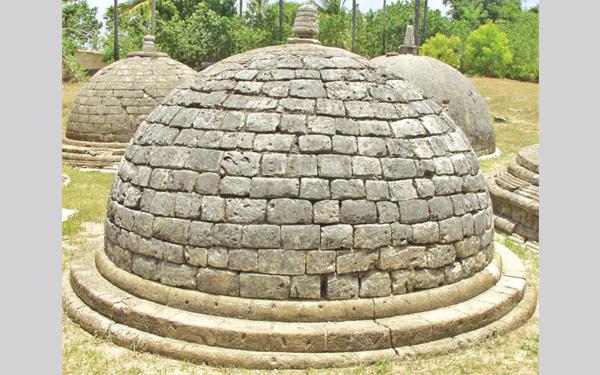 My first visit to the Northern part of my country was in 2010 and I witnessed the ravages of the battle against terrorism.However, my second visit was in 2019 and I never saw any sign of the battle in the area. The area is peaceful with people going about their work.
Destination
My destination was the Kantharodai Vihara, one of the earliest archaeological sites which nestles eight kilometres away from the Jaffna town. It was my life-long love to visit ancient sites in the country and I had a fascinating opportunity to visit and photograph the Kantharodai ancient site.
A memorable visit
This is one of the most memorable visits of mine. I had dreamt of visiting this ancient site for quite some time and my dream finally came true with my visit to the Jaffna Peninsula.
Every day, busloads of visitors from the South head towards the North via the A-9 highway to visit Jaffna where there are several important ancient sites. There are a number of ancient Hindu temples spread across the Jaffna Peninsula which are venerated by the Hindu community as well as Buddhist pilgrims who visit Jaffna.
An ancient civilisation
Ancient Buddhist temples, Hindu kovils, Dutch forts, fascinating beaches and famous landmarks lie across the Jaffna Peninsula – the evidence of an over 2,000-year-old civilisation.
The Kantharodai ancient Buddhist site is one of the most fascinating stops for the visitors. It is near Chunnakam, west of the main Jaffna – Kankesanturai Road. There were no bhikkhus at the site when I visited the place and there is no dwelling place for a bhikkhu. An Army Camp is located nearby.
Excavations
The Kantharodai ancient Buddhist site was discovered in 1916 and a series of excavations were carried out by the then Ceylon Archaeological Department in 1966. During these excavations, many coins were unearthed by archaeologists.Kantharodai is also known as the ancient Kathurogoda Vihara mentioned in Sinhala historical chronicles. The miniature dagabas have been made by cutting coral stone. They are very closely builtand crowd together. Approximately, a 100 dagabas have been excavated in an area of only about two acreas.
The largest dagaba is no more than 12 feet in diameter. Perhaps 2,000 years old or more, they are a reminder of the strong Sinhala Buddhist influence in the Jaffna area prior to the 8th century AD. Some of the findings at this site are now on display in the Archaeological Museum in the Jaffna city.