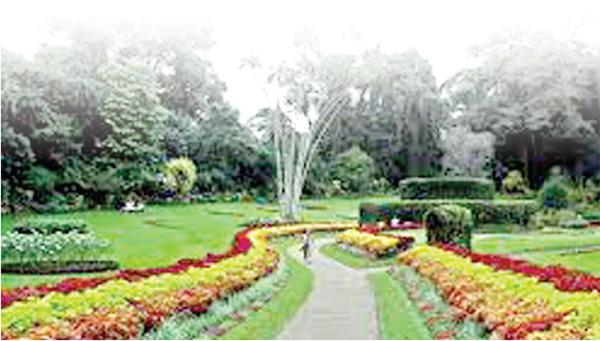 Hi I am Lalasha Tikiri Kumari and today, I am going to talk about the Hakgala Gardens as I visited it a few months ago.
The Hakgala Botanical Gardens is one of the five botanical gardens in Sri Lanka. The other four are Peradeniya Botanical Garden, Henarathgoda Botanical Gardens, Mirijjawila Botanical Gardens and the Seetawaka Botanical Gardens.
Hakgala is the second largest botanical garden in Sri Lanka. The garden is contiguous to the Hakgala Strict Nature Reserve. It is situated on the Nuwara Eliya-Badulla main road, 16 km from Nuwara Eliya.
The garden has a cool, temperate climate because it is at an altitude of 5,400 feet above sea level. The mean annual temperature ranges between 16 °C to 30 °C during the year. From December to February it has cold weather, while the warm weather is from April to August.
The garden was established in 1861, under George Henry Kendrick Thwaites as an experimental cultivation of cinchona, a commercial crop thriving at the time.
When tea replaced cinchona, Hakgala was turned into an experimental tea cultivation. In 1884, it was transformed into a botanical garden. Since then, many subtropical and some temperate plants have been planted in the gardens.
In folklore, it is said that the Sri Lankan demon King Ravana after abducting Sita, kept her hidden in this area and it was offered to Sita as a pleasure garden and the place is mentioned in the Ramayana as Ashok Vatika.
The area was subsequently named Sita Eliya and the Sita Amman Temple was built on the site..
There are over 10,000 species of flora planted at Hakgala and during the spring season in Nuwara Eliya, thousands of visitors come to see the blooms here. The number of annual visitors is around 500, 000. The garden is famous for many species of orchids and roses.
George Henry Kendrick Thwaites was an English botanist and entomologist. Thwaites was initially an accountant and studied botany during his spare time. He was interested particularly in plants such as algae and cryptogams. He became a recognised botanist when he showed that diatoms are not animals, but algae.
In 1846, he was lecturer in botany at the Bristol School of Pharmacy and afterwards at the Medical School. In March 1849, on the death of George Gardner, Thwaites was appointed superintendent of the botanical gardens at Peradeniya, a position he held for thirty years, until he resigned in 1879.
Hakgala gardens is one of the most popular gardens in Sri Lanka. This is a delightful place to visit as a garden.
Try enjoying the garden by visiting it , but don't harm any plant because they are gold and old and not to be found.
Lalasha Tikiri Kumari
Grade 7
Lyceum International School
Gampaha