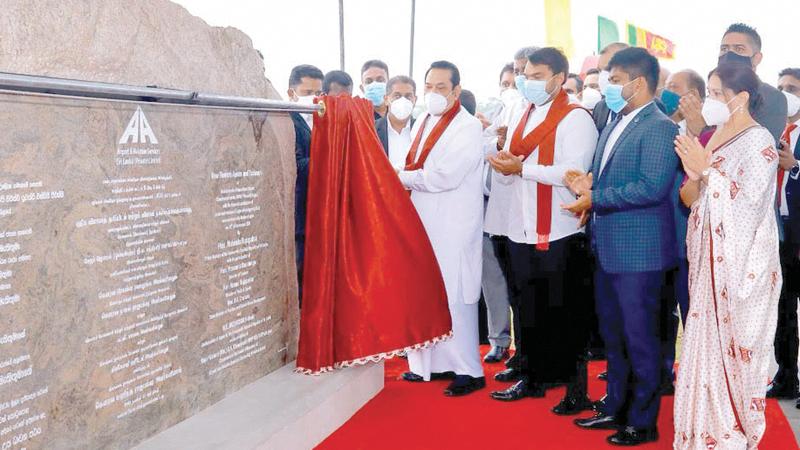 Prime Minister Mahinda Rajapaksa and Japanese Ambassador Mizukoshi Hideaki opened the new aircraft apron and taxi area at the Bandaranaike International Airport last week while inaugurating the second stage of the Bandaranaike International Airport (BIA) expansion project funded by the Japan International Cooperation Agency (JAICA).
The first stage of the airport expansion project was jointly inaugurated by PM Rajapaksa and the PM of Japan Shinzo Abe in 2014. This first phase added 23 more aircraft parking slots to the 26, thereby increasing the number of aircraft that can be parked at a time to 49 at the BIA.
The second stage of the project will increase the airport's passenger handling capacity to 15 million annually. This is the second largest development project implemented in Sri Lanka.
The project is implemented under Package A and Package B. The new Apron and Taxiways constructed under Package B stretch across 210 square metres.
When the 'Package-B' is completed, it will facilitate the upcoming 'Package A', a Passenger Terminal Building and associated works.
The project will include the construction of a new multi-level terminal building with a floor area of 180,000m², two new piers, and a link course connecting to the terminal. The arrival and departure areas will be separated vertically.
The airport's new terminal building will include 96 check-in counters, eight baggage claim belts, seven baggage make-up carousels, contact boarding gates, passenger boarding bridges, and bus gates.
The Package A which was inaugurated by then President Mahinda Rajapaksa in 2014 was neglected by the former Yahapalanaya regime. However, work on Package A was recommenced while work on Package B was expedited when the Government came into power in 2019.
It is expected that airline operations will rise dramatically once the project is completed in 2023.
The project has incorporated Japanese advanced technology and expertise to enable the building to provide barrier-free access and environmental friendly features.