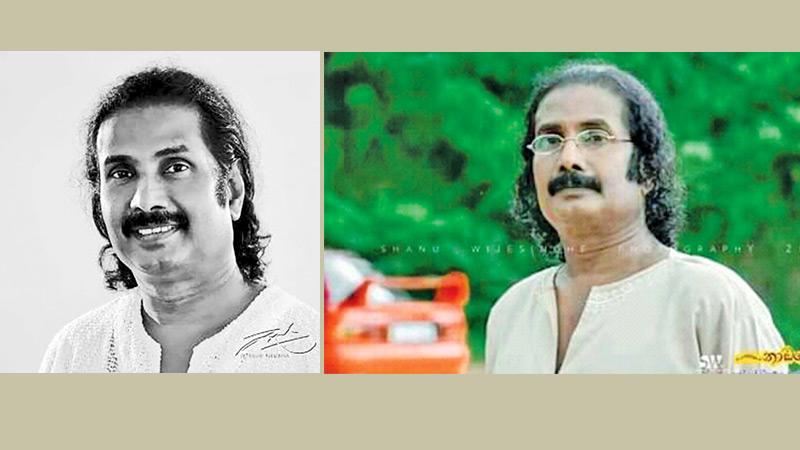 The Nadagamkarayo teledrama that is woven around a beautiful village has already been engraved in our hearts. This teleplay, directed by Jayaprakash Sivagurunathan portrays every nuance of a village life naturally in such a way that we feel the fragrance of a traditional village. The foundation of a Sri Lankan village is the concept of "village, temple, tank and dageba." Behind this teledrama there can be found many factors which contribute to its attraction. Characters are played by both veteran and upcoming actors and actresses.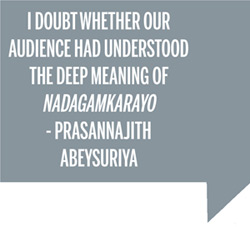 Indeed, their performances are found to be superb and close to our hearts. Focusing on the story, ' Sara' who used to be making money by distilling spirits in the village, decided to give up his illicit moonshine business. But there can be seen two main reasons for his positive move. The temple and the master. The role of the 'master' is played by veteran actor Prasannajith Abeysuriya.
Veteran actor Prasannajith Abeysuriya is one of the senior lecturers at the University of the Visual and Performing Arts. He had his education at Wellampitiya Vidyawardana college. Prasannajith ' s inner thespian began to emerge even from his school days through his maiden school drama titled, Midi Waththa, surprisingly, he won the award for the Best actor at the inter-school competition coordinated by the Lions club.
Prasannajith started his drama journey in the year 1976 through Gamane Ya. Prasannajith 's contribution to the stage play Gamane Ya as a prompter has paved the way for him to stay in the field. This stage drama was directed by the veteran dramatist Sirithunga Perera in 1976. He entered the open stage as an actor through the drama Parana Coat directed by Sirithunga Perera. So far, in more than 100 stage dramas he has performed different types of characters.
Later he might have realised that drama is a complex subject. That is why his mind was bent towards gaining a theoretical and practical knowledge of drama and theatre. His reluctance to fumble in the darkness is evident. Prasannajith, to quench his thirst for drama and acting, followed a drama course conducted by the State Institute of Theatre Arts in the ministry of cultural affairs in 1987.
He horned his skills and enriched his creativity by associating many veteran artistes such as Dr. Ediriweera Sarachchandra, Parakrama Niriella , Somalatha Subasinghe , R. R Samarakoon , Jayalath Manorathna and Gamini Haththettuwegama. Veteran dramatist Gamini Hattettuwegama can be said to be Prasannajith ' s street drama guru. Prasannajith joined the Hattettuwegama ' s open street drama group and dedicated himself to the street drama for more than 2 decades. Prasannajith is multi-faceted. As an actor, director, script writer, costume designer, set designer, stage manager and choreographer, Prasannajith has cemented himself in many fields.
Duk gannarala (the bearer of woes)
Prasannajith's maiden stage play Duk Gannarala can be considered to be a milestone in the Sri Lankan stage drama field. The script was translated into English by Prof. Rajini Obeysekara. The stage play which was staged in 1989 went on to win awards at the stage drama festival. The significance of the play Duk Gannarala is that this is the first American production of a Sri Lankan play.
This was directed by Chris Van Houten and presented in US by the Drew University Dramatic Society. Only a fistful of dramas such as Sinha Bahu , Kuweni, Premathi Jayathisoko and Gajaman Puwatha had been translated into English. However only the play Sinhabahu was staged in the US, thanks to Namel Weeramuni. As noted by Prasannajith, " there are good stage plays up to the international standards in our country but they need to be recognised."
As pointed out by many, Duk Gannarala is found to be interesting. There appears a nameless woman from the audience making everyone surprised. If you draw your attention to the plot of the story, you will realise that this story has been woven around an unpractical man. Dhordanda is another stage play by Prasannajith.
Nadagamkarayo teledrama
The teledrama Nadagamkarayo directed by Jayaprakash Sivagurunathan, written by Saddha Mangala Sooriyabandara and produced by Chamara Samarawickrama is on Swarnavahini.
Already this teleplay has come under the spotlight, stealing the hearts of the audiences. Focusing on the story, the actors and actresses who play the main characters such as Sara (Sajith Anuththara), Master (Prasannajith Abeysuriya), Kukula Lakuna (Giriraj Kaushalya), Patali master's eldest daughter ( Senali Fonseka), Marlon (Kokila Pawan), Kawadiya (Sangeeth Prabhu) and Loku Hamuduruwo (Rahal) are built up and nourished by the supporting characters such as Jaanu, Sudda, Kiriputha, Kukula Lakuna Mudhalali's wife, Poddi, Kekulandara, S.K Sirisena, Geethika and Rathne. Both veteran and upcoming artistes play all the characters naturally.
Kukula Lakuna Mudhalali obviously symbolising those greedy for power and money is at odds with the Master and Sara. Sara labelled as a kasippu karaya symbolising the unemployed youths who have been deprived of a proper education and forced towards illicit moonshine business.
S.K Sirisena who is mindful of society delves into the social issues and points them out. In a way the delivery of his dialogue can be viewed as a blow against the wrongdoers. Gaja man though more humorous, indirectly conveys a deep meaning through his humorous expressions. However Regrettably, our narrow-minded viewers failed to understand the deep meaning of Nadagamkarayo.
The essence of this teleplay is beyond the people's perception. As mentioned by the veteran artiste Prasannajith, our audience learned not the message of Nadagamkarayo but the phrases like Mongal da darling, Athi Mata den Hathi.
"I doubt whether our audience had understood the deep meaning of Nadagamkarayo." Veteran artiste Prasannajith said. Obviously, our viewers confined to narrow perspectives should broaden their views by altering their personal perspectives. Prasannajith Abeysuriya had made his contribution to the Sri Lankan stage drama field in many ways as an actor, lecturer, script writer, stage manager, costume designer and choreographer.
Moreover, his participation in the international drama festivals has also been praised by many. Indeed Prasannajith Abeysuriya is a guiding star which paves the way for many upcoming artists to flourish.