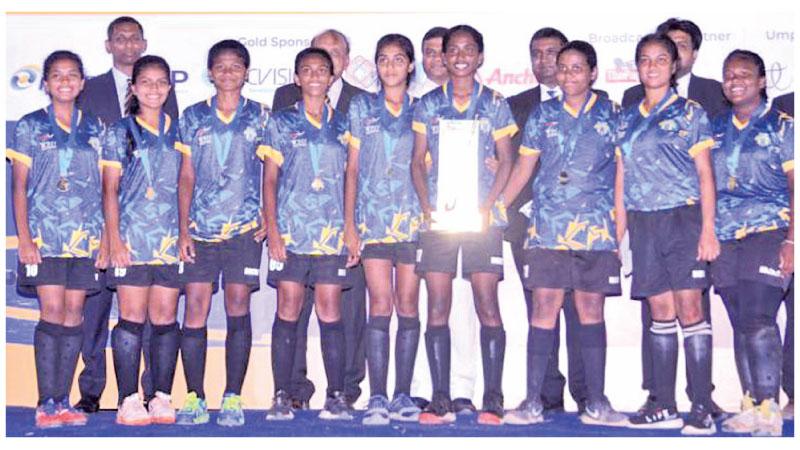 St. Joseph's College (boys) and Holy Family Convent, Wennappuwa emerged unbeaten Cup champions at the boys and girls segments respectively at the ESOFT Blue and Gold Hockey Sevens organised by Royal College Hockey Club last weekend at Reid Avenue in Colombo.
Both teams won the title for the first time in the history of 18 Blue and Gold Hockey Sevens since 1992.
The Darley Road boys won the title by beating St. Thomas College, Matale 2-0 in the final of the 146-game tournament.
At lemons SJC led 1-0.
Both teams fought hard, but Joes' player Abner Fernando broke the STC Matale defence line in the sixth minute and passed to skipper Keith Joshua to score the first goal.
After the break Adrian Fernando of the Joes scored in the 12th minute of the game through a penalty corner to increase the lead to 2-0.
The Joes won against this year's tournament favourites Kingswood College, Kandy 1-0 in the semi-finals after beating Ananda College in the quarter-finals 2-0 on penalty strokes after a 1-1 stalemate.
St. Thomas' College, Matale upset the Mount Lavinia Thomians 2-0 in the semi-finals after beating Hindu National School Matale 2-0 in the quarter-finals in a penalty shootout.
In the girls Cup final, Holy Family Convent Wennappuwa beat Ladies College, Colombo 2-0. The Wennappuwa team scored the goals within the first three minutes of the game with Ishara Fernando and Tharushika Subasinghe scoring a goal each.
The HFC girls won against the finalist Ladies College in the league stage 1-0 and beat Rathnawali Balika Vidyalaya 4-0 before beating Yasodhara 1-0 in the pre-quarter-finals, Visakha 2-0 in the quarter-finals and Swarnamali Balika 1-0 in the semi-final.
This year's tournament had a record number of 66 teams (42 boys and 24 girls) taking part in Sri Lanka's largest hockey tournament played over two days.
Results and special awards:
Best Player: Boys - Abner Fernando (St. Joseph's College)
Girls- Ishara Fernando (Holy Family Girls School)
Best Goalkeeper: Boys - AB Gamagedara (St. Thomas' College Matale)
Girls - Dehara Senaratne (Ladies' College)
Cup Champions:
Champion: Boys - St Joseph's College
Girls - Holy Family Girls School, Wennappuwa
Runners-up: Boys – St. Thomas' College Matale
Girls - Ladies' College, Colombo
2nd Runners-up: Boys – St. Thomas' College Mt. Lavinia
Girls - Swarnamali Girls College Kandy
Plate Championship:
Champion: Boys - Ananda College
Girls - Seethadevi Balika Vidyalaya
Runners-up: Boys - Zahira College Matale
Girls - Visakha Vidyalaya
2nd Runners-up: Boys - Hindu College Matale
Girls - Bishop's College
Bowl Championship:
Champion: Boys - Trinity College
Girls - Panadura Balika Maha Vidyalaya
Runners-up: Boys - Vidyartha College
Girls - Yasodara Balika Vidyalaya Colombo
2nd Runners-up: Boys - Vijaya College
Girls – St. Anthony's Girls College Katugastota