Hayleys Plantations conducted a first of its kind, carbon neutral International Plantations Sustainability Summit (IPSS) at the BMICH recently.
The full-day event brought together a line-up of plantations, agriculture and sustainability experts from Sri Lanka and across the globe to share emerging best practices and innovative breakthroughs in agronomic management and human resources that have the potential to radically reshape the industry over the next decade.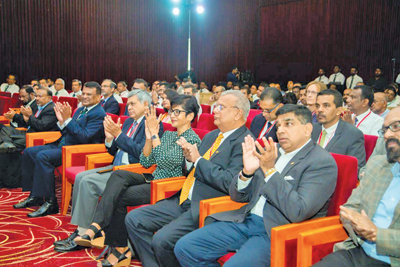 A section of the guests
Chief guest Hayleys Group Chairman and Chief Executive Mohan Pandithage said, "The significance of the plantations industry cannot be overstated, as a contributor to GDP and export revenues. Beyond its economic impact, it plays a vital role in uplifting the lives of our fellow citizens and conserving our land's beauty, natural resources.
"At Hayleys we are proud to account for approximately 4.6% of the country's tea and 4.7% of its rubber production. The ethical and sustainable way we run our plantations have contributed to Hayleys being ranked as Sri Lanka's number one corporate for the third consecutive year, and its prestigious AAA rating by Fitch. Today it serves as a unique platform to collaborate and create greater change together and I encourage all participants to focus on recommendations and actions towards a more resilient industry."
Hayleys Plantations Managing Director Dr. Roshan Rajadurai said, "Ceylon tea has a legacy of 150 years and we are rightfully branded as the tea nation of the world. To combat the challenges and impact of climate change on the industry, it is essential that we optimise climate-smart and innovative agricultural practices and technologies.
"As we gather industry experts and stakeholders at the IPSS, we witness a powerful knowledge-sharing initiative taking root for the first time. Moving forward, our goal is to take these learnings and steer the entire plantations sector towards a more prosperous and equitable future defined by ethical practices, environmental stewardship, and resilient growth," he said.
Themed 'Towards Sustainable Plantations - Reimagined | Redesigned | Resilient', the summit emphasised the integration of environmental, social, and governance considerations into every business decision, in line with the United Nations Sustainable Development Goals (SDGs).
The panellists, experts in a wide array of subjects including agroforestry, climate-resilient farming, smart and precision agriculture, carbon sequestration and biodiversity preservation addressed gaps in ESG and sustainability, integration of knowledge management practices, data-driven sustainability, sustainable financing andthe adoption of circular green economy concepts into business philosophy.
Delivering the keynote speech on 'Global trends on sustainability approaches towards innovative plantation production systems and opportunities for new business models', World Resources Institute (WRI), India, Director and Strategy Head Dr. A. Nambi Appadurai said, "Climate change is the mother of all threats with uncertainty being the only certainty. It has affected every crop in the globe and if we are to meet these challenges, we have to understand every aspect of its impact, which includes not only the environmental changes but also its social bearing. Today's solutions may not be useful in the future and it is necessary that we hone our adaptive capabilities to ensure that no one is left behind."
Delivering the guest speech on 'Regenerative Agriculture (RA) – A sustainable approach to boost soil health in plantations', Senior Scientist at Wageningen University, Netherlands, Dr. Mirjam Pulleman said, "Integrating regenerative agriculture to perennial crops has the potential to affect a number of systems, strengthening plantations with higher resilience and lowering risks. It is in fact essential for sustainability across the industry."
Embracing environmental responsibility and climate action, the Hayleys Plantations sector quantified, verified and offset its carbon footprint for the event by offsetting 15 tCO2e (tonnes of carbon footprint), through the Sri Lanka Climate Fund.