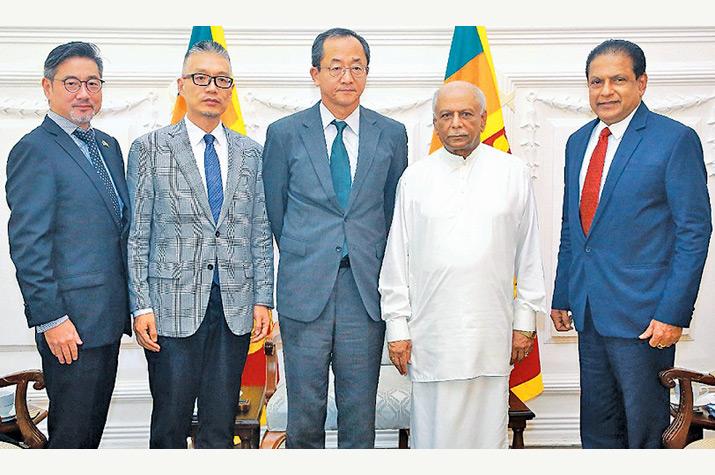 Asian Development Bank's (ADB) Director General for South Asia Kenichi Yokoyama and newly appointed Country Director Takafumi Kadono held discussions with Prime Minister Dinesh Gunawardena at the Temple Trees in Colombo yesterday (8). The Prime Minister, while welcoming the new  Director General thanked the outgoing DG, Chen Chen for the support extended to Sri Lanka during the height of Covid pandemic and the economic crisis.
He thanked the ADB for extending short term, immediate contingency support which has helped Sri Lankan economy to recover from the unprecedented crisis within a short period of time. ADB loan funds amounting to USD 380 mn were targeted for enhancing fiscal space and efficient public financial management system as well as strengthening the SME sector with access to finance. Further USD 250 mn was obtained as budgetary support to develop Capital Market.
The Prime Minister made a special mention about ADB's US$ 333 million emergency assistance to support import of essential items such as fertilizer, medicines and chemicals for water treatment, working capital support to SMEs, and cash transfer to most poor and vulnerable to mitigate the impact of economic crisis. Keinichi Yokohoma, praised the recovery made by Sri Lankan economy and briefed the Prime Minister about the ADB's mid-term and long-term projects for economic progress and infrastructure development.
He explained ADB plans to provide assistances for a timeframe of four years. Initial focus will be economic stability and social protection. Among others, a special policy-based loan of USD 350 million is being processed from ADB. He said that structural reforms for recovery and growth to be stepped up year by year under ADB assistance in close coordination with the IMF, World Bank, and other development partners.
Secretary to the Prime Minister Anura Dissanayake, Additional Secretary Mahinda Gunaratne, Media Advisor Sugeeswara Senadhira and ADB Deputy Country Director Utsav Kumar were also present at the discussion.