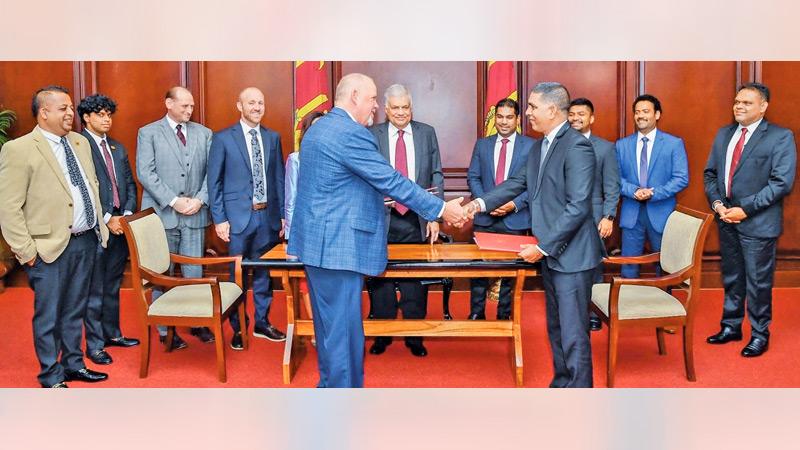 The Power and Energy Ministry signed an agreement yesterday at the Presidential Secretariat, between the Government of Sri Lanka and RM Parks Inc., a prominent international company operating in collaboration with Shell.
This marks a significant step towards securing a long-term contract for the importation, storage, distribution, and sale of petroleum products in the country in a bid to address the foreign exchange crisis in Sri Lanka and ensure a steady supply of fuel.
Power and Energy Ministry Secretary Mapa Pathirana signed the agreement with RM Parks Company Vice President Justion Divis in the presence of President Ranil Wickremesinghe at the Presidential Secretariat yesterday.
This development comes after the Ministry explored  various strategies to overcome the challenges posed by the foreign exchange crisis and guarantee a continuous fuel supply to consumers. The current economic situation has hindered the Ceylon Petroleum Corporation (CPC) and Lanka Indian Oil Company (LIOC) from importing fuel shipments as planned. Insufficient foreign exchange at the time of opening Letters of Credit and settling bills has exacerbated the issue. Consequently, the Ministry sought solutions to mitigate these challenges, leading to the invitation of Expression of Interests (EOIs) from reputable petroleum companies.
Following a rigorous evaluation process, several companies were shortlisted and invited to submit detailed proposals. The Cabinet Appointed Special Committee (CASC) and the Technical Evaluation Committee (TEC) carefully scrutinized these proposals andrecommended the awarding of contracts to the following companies, subject to negotiations: Sinopec Fuel Oil Lanka (Private) Limited, located at F5, Hambantota Maritime Centre, Mirijjawila, Hambantota, Sri Lanka. United Petroleum Pty Ltd, situated at 600 Glenferrie Rd, Hawthorn, Victoria 3122, Australia.
RM Parks, headquartered at 1061 N. Main St, Porterville, CA 93257, USA, in collaboration with Shell. After thorough consideration of the recommendations made by the CASC and the Committeeappointed by the Cabinet of Ministers, the Cabinet granted its approval to award contracts to the selected suppliers. The contract agreement with Sinopec Fuel Oil Lanka (Private) Limited and its parent companies was signed on May 22, 2023, following successful negotiations. Furthermore, negotiations with RM Parks have also reached a fruitful conclusion. The contract agreement between the parties was signed yesterday (8) at the Presidential Secretariat.
RM Parks Inc., in collaboration with Shell, aims to commence operations in Sri Lanka within 45 days after the issuance of the license. This agreement marks a significant milestone in ensuring a reliable and uninterrupted supply of fuel to meet the country's energy needs amid challenging economic circumstances.
The event was attended by Power and Energy Minister Kanchana Wijesekera, Foreign Affairs Minister Ali Sabry, State Ministers D.V.Chanaka, Indika Anuruddha, Shehan Semasinghe, Presidential Senior Adviser on National Security and Chief of Presidential Staff Sagala Ratnayake, American Ambassador to Sri Lanka Julie Chung, Secretaries of pertinent ministries, government officials, and various dignitaries.