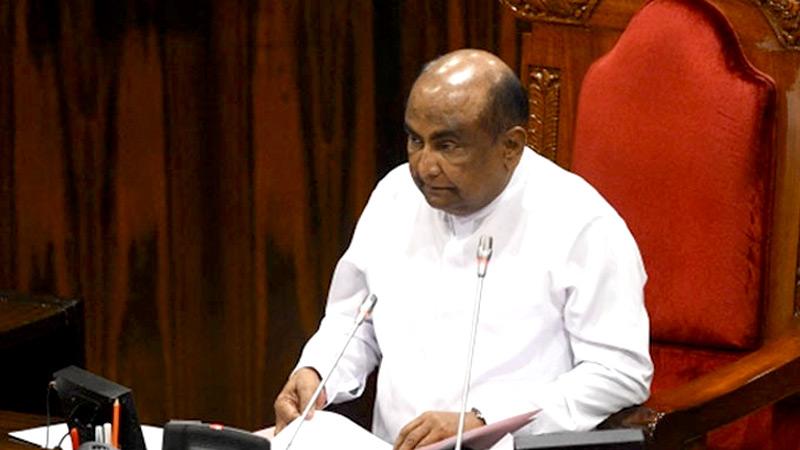 Speaker Mahinda Yapa Abeywardena told Parliament yesterday that the Police informed him in advance that they have to arrest MP Gajendrakumar Ponnambalam and that there is
no possibility of interfering with the Police's duties. However, MP Ponnambalam will be allowed to participate in Parliamentary sessions after he is produced before the courts. The Speaker said this when Opposition Leader Sajith Premadasa and several members of the Opposition spoke about the arrest of MP Gajendrakumar Ponnambalam. "We cannot stop the Police from performing their duty," the Speaker added.
Senior police officers reported this incident to me. He was produced before the Killinochchi court and he will be able to participate in Parliament again. That is their plan. We cannot interfere with that duty.
It is their responsibility to produce him in court. That is the situation that has been reported. Opposition Leader Sajith Premadasa: MP Ponnambalam has been arrested. I am not ready to talk about the right and wrong of the incident. But as an MP, he has the right to talk about his privileges. He has also spoken to you. It has been reported that he will go to the police station after the parliamentary session. We have different opinions about his policies. But he cannot be arrested when he comes to this assembly. Apply the law of this country properly. Protect the privileges of MPs.
Chief Opposition Whip MP Lakshman Kiriella:He is a peaceful MP. He has no bodyguards.He goes everywhere only with the driver. He was arrested when he came to parliament. An MP cannot be arrested while coming to Parliament.