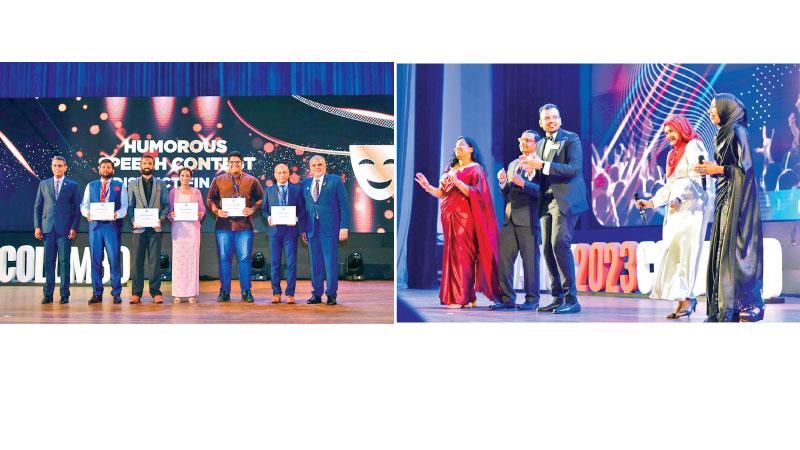 Consolidating Sri Lanka as a MICE destination, the Ovation Annual Conference 2023 was held for three successive days at the BMICH.
The event was hosted by District 82 Toastmasters, under District Director Nisal Weerakoon. Over 650 people from Singapore, Maldives, India, Pakistan, Bangladesh and members from around the world were present.
Held on the theme "Transform to Empower" the conference focused on promoting effective communication and leadership skills among the participants.
Toastmasters International, the organisation behind Ovation, has a global membership of over 364,000 in over 16,200 clubs across 145 countries.
"By hosting this event, Sri Lanka positioned itself as a prime destination for international conferences, thereby bolstering its reputation as a burgeoning tourism hub," a spokesman for the organisers said.
"Sri Lanka had hosted this event on previous occasions and the Ovation 2023 event at the BMICH last week also sent out a positive message to the world that Sri Lanka is now ready and open for tourism," he said.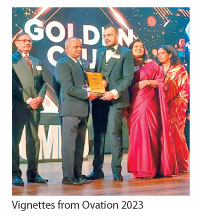 The participants also stayed extra days travelling around Sri Lanka. 
The previous event too led to a significant influx of Toastmasters visiting Sri Lanka, not only for the events but also as tourists.
"By hosting more conferences of this nature, Sri Lanka can position itself as a sought-after destination for business and leisure travellers," the spokesman said.
With the inclusion of the Maldives to the District 82 Toastmasters many participants from Maldives also attended the event.
The conference also featured top business personalities such as Executive Director and Group CEO Hemas Holdings, Kasturi Chellaraja Wilson.
Global motivational speakers  such as World Champion of Public Speaking from Singapore, Manoj Vasudevan and the Co-founder of AI Speech Analytics Platform, Varun Puri also made presentations while M. Yoodli from the USA   shared insights on the intersection of technology and communication.  International Trainer, Facilitator, and Executive Coach from India, Dr. Shan Moorthi provided guidance on personal development.
The installation of top District Leaders for the 2023-24 term starting July 1, 2023 also took place. They  will play a crucial role in promoting Toastmasters and attracting more international MICE events to Sri Lanka.
The conference also recognised the outstanding achievements of Toastmasters within the district. Tharindu Amarasekara of The Millennium Toastmasters Club, emerged as the champion in the Humorous Speech and International Speech categories, earning the honour to represent District 82 Sri Lanka at the World Championship of Public Speaking.
Shamen Sameera of Serendib Toastmasters Club, showcased his evaluation skills and secured the Evaluation Speech championship. Ayesha Rathnayakeo of Marketers Toastmasters Club, delivered an impressive Table Topics Speech, while Tharindu Amarasekara again shone bright as the International Speech champion.
Beyond individual recognition, Ovation 2023 celebrated the achievements of clubs, areas, and divisions within the district. Thirty clubs, including Expolanka Toastmasters Club, CBA Toastmasters Club, and AATSL Toastmasters Club, received the Golden Club Award, further solidifying their commitment to personal and professional development.
By recognising these leaders, Ovation 2023 showcased the talent and commitment within the Toastmaster community in Sri Lanka and the Maldives.
1. District Director: Mahinda Karunakara -DTM, 2. Program Quality Director: Ganga Fernando - DTM, 3. Club Growth Director: Niroshan Nadarajah - DTM 4. District Administration Manager: TM Lalith Manage, 5. District Finance Manager: P. Babukumar - DTM, 6. District Public Relations Manager: TM Nimnka Perera 7. Logistics Manager: TM Nanediri Karunasinghe, 8. Immediate Past District Director: Nisal Weerakoon - DTM
Ovation 2023 also acknowledged individuals who made outstanding contributions to the district in the previous year. These individuals were recognized for their exceptional leadership and dedication, setting a high standard for others.
The awards were presented to: Toastmaster of the Year: Mihiri Alwis – KDU, Area Director of the Year: Chamila Gamage, Division Director of the Year: Jeewana Pradeep