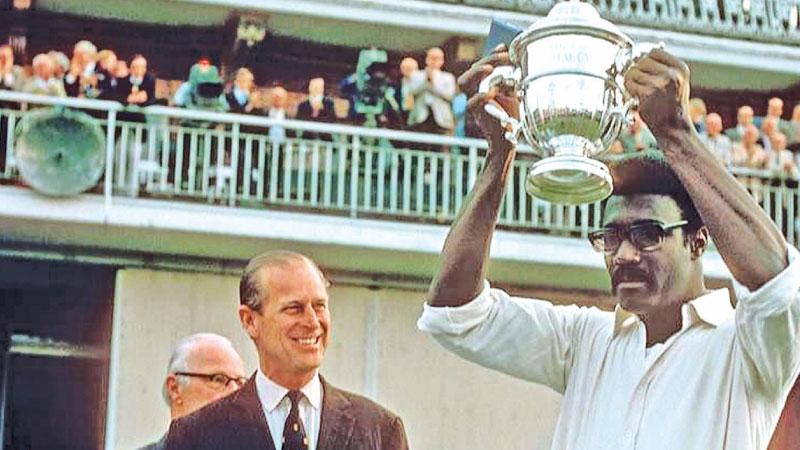 Sir Clive Lloyd CBE AO is a Guyanese-British former cricketer and captain of the West Indies cricket team. He is widely regarded as one of the greatest captains of all time. He captained the West Indies from 1974 to 1985 including three World Cups, winning twice in 1975 and 1979 and becoming runners-up in 1983.
Sir Clive Lloyd is arguably, the best World Cup captain of all-time. He made the Caribbean a force to be reckoned with by winning the inaugural 1975 Cricket World Cup at Lord's, the iconic "home of cricket," and being the first captain to lift the coveted trophy. Undoubtedly, he is one of the most inspirational leaders the sporting world has ever seen.
Although he had an impeccable team at his command, it was his brilliant tactics as the captain that played a huge role in the dominance of the West Indies cricket on the world scene. He wore his famous glasses as a result of being poked in the eye with a ruler.
One of Clive Lloyd's biggest successes was getting together individuals from various Caribbean countries for the sole purpose of becoming the best cricket team. Having such a diverse culture at his disposal, Lloyd saw it as an opportunity to cherry pick the best players to build the West Indies team he wanted. He told English author Simon Lister: "I wanted my team to be the best batting team, the best bowling team and the best fielding team. And I wanted to be the best captain."
Lloyd added: "The first thing you must do is create the right mind-sets in the players and instil the right values. You then have to emphasise the importance of fitness, physical skills, especially mastery of the basic skills, as well as mental skills like clear thinking, concentration, self-discipline, handling pressure, dealing with different game situations and continuous learning."
He was born Clive Hubert Lloyd on August 31, 1944 in Georgetown, British Guiana (now Guyana) and attended Chatham High School in Georgetown. Lloyd was an athletics champion at the school level and the winning mentality made him a champion at cricket, too. At 14, he was captain of his school cricket team in the Chin Cup inter-school competition.
Sir Clive Lloyd in Tests
Lloyd was a prolific middle-order batsman and occasional right arm medium-pace bowler. In his youth he was also a strong cover point fielder. Lloyd's Test match debut (cap 125) came on December 13, 1966 versus India in Mumbai.
He scored 82 in the first innings and 78 not out in the second. In 1971, he was named a Wisden Cricketer of the Year.
In 1971/72, Lloyd suffered a back injury while playing for a Rest of the World team at Adelaide Oval and spent a few weeks in an Adelaide hospital. One of his most memorable knocks is his unbeaten 242 scored in Mumbai during the fifth and final test of 1974/75 tour of India to help West Indies to win the Test by 201 runs and claim the series.
The 6'4" Lloyd commanded the West Indies to 36 Test victories in 74 matches with only 12 defeats, between 1974 and 1985, and remains the most successful West Indies captain in Test matches. He was instrumental in the rise of West Indies to become the greatest Test and ODI team of the 20th century.
His test career included 19 centuries and 39fifties. He hit 70 sixes in his Test career and had 10 wickets and 90 catches. His last Test match was the fifth Test against Australia at Sydney Cricket Grounds in 1984. His average of 46.39 was extremely impressive in an age when the benchmark for a class batsman in Test cricket was 40.
During his captaincy the West Indies had a run of 27 test matches without defeat, which included 11 wins in succession (Vivian Richards acted as captain in one match). He was the first West Indian player to earn 100 international caps.
He played domestic cricket for his home nation of Guyana/ British Giana in West Indies from 1964 to 1983, and for Lancashire in England from 1968 to 1986 (he was made captain in 1981). He is a cousin of spin bowler Lance Gibbs.
Since retiring, Lloyd has remained heavily involved in cricket, managing the West Indies, coaching and commentating. He was an ICC Match Referee from 2001 to 2006. He was inducted into the ICC Cricket Hall of Fame in 2009.
Lloyd once concluded: "We were the best sports team in the world, no one could beat us. We were admired everywhere we went. The Caribbean has produced some truly great people in several fields of endeavour and we formed part of that, we were the symbol of sporting success. Our victories were for the many supporters who we represented. It wasn't just for us as players, our victories touched many people all across the world."
1975 Cricket World Cup
The 1975 Cricket World Cup, officially called the Prudential Cup '75 was the inaugural men's Cricket World Cup and the first major tournament in the history of ODI cricket. Each match consisted of 60 overs per team and was played in traditional white clothing and with red balls; all matches were played and ended in daylight.
The format had the eight teams split into two groups, with each team playing the rest of their group once. The matches took place from June 7 to 14 in seven venues across England. The top two teams from each group then advanced to the semi-finals on June 18, where the winners qualified for the final on June 21. If any of the matches had rain throughout the day, the teams could use one of their two reserve days.
Twelve group matches
England vs India: The first group match at Lord's saw England deliver the highest score in the 60 over match with 334/4 to win by 202 runs. Dennis Amiss (Player of the Match) top scored with 137. India could score only 132/3 in 60 overs with Sunil Gavaskar batting through the entire innings for mere 36 runs.
East Africa vs New Zealand: New Zealand beat East Africa by 181 runs at Edgbaston, with Glenn Turner (Player of the Match), who occupied the crease during the whole innings top scoring with 171 runs. East Africa could muster only 128/8 in 60 overs.
Australia vs Pakistan: At Headingley, Australia beat Pakistan by 73-runs. Ross Edwards top scored with an unbeaten 80 and aided in getting 94 runs from the last 13 overs to bring Australia to 278/7 from their 60 overs. Pakistan's hope of a win crashed down as they collapsed from 181/4 to be all out for 205 despite Majid Khan's 65 runs. Dennis Lillee (Player of the Match) wrecked Pakistan taking 5 wickets for 34 runs.
Sri Lanka vs West Indies: Sri Lanka bundled out at Old Trafford, for a mere 86 in 37.2 overs with Somachandra de Silva top scoring with 21 runs. The West Indies scored 87/1 in 20.4 overs to record a nine-wicket victory. The Player of the Match was Bernard Julien. Sri Lanka became the first team to score under 100 runs in an ODI.
England vs New Zealand: At Trent Bridge, Keith Fletcher (Player of the Match) top scored for England with 131 as he guided them for an 80-run victory over New Zealand. England's Tony Greg claimed 4 for 45 to restrict New Zealand to 186.
East Africa vs India: East Africa were all out at Headingley for 120 runs with Madan Lal taking three wickets. Indian opening pair responded with an unbeaten quick fire 123 to win by 10 wickets. Sunil Gavaskar remained 65 not out from 86 deliveries. The Player of the Match was Farokh Engineer of India.
Australia vs Sri Lanka: At Kennington Oval, Australia raised to 328/6 with Alan Turner (Player of the Match) scoring 101. Sri Lanka managed 276/4 with Sunil Wettimuny scoring 53 runs, falling 52 runs short with Australian short balls sending two Sri Lankan batsmen to hospital.
Pakistan vs West Indies: At Edgbaston, Pakistan scored 266/7 with Majid Khan scoring 60. The West Indies fell to 166/8 losing three wickets for just 10 runs. However, the last wicket pair took the score to 267/9 in 59.4 overs to clinch victory by a wicket. The Player of the Match was Safraz Nawaz of Pakistan for his 4/44.
England vs East Africa: England clinched a 196-run victory at Edgbaston over East Africa. England scored 290/5 aided by a 158-run opening partnership between Dennis Amiss who scored 88 and Barry Wood. The East Africans were bowled out for 94 in 52.3 overs with John Snow (Player of the Match) taking 4 for 11.
India vs New Zealand: At Old Trafford, India scored 230 with Syed Ali scoring 70 runs. New Zealand responded with 233/6 to register a four-wicket victory with Glenn Turner (Player of the Match) scoring an unbeaten 114 with twelve fours.
Australia vs West Indies: At Kennington Oval, Australia after struggling at 61/7, reached 192. The West Indies responded with 195/3 in 46 overs to take a seven-wicket victory. Alvin Kallicharran (Player of the Match) top scored with 78.
Pakistan vs Sri Lanka: Pakistan amassed 330/6 at Trent Bridge, to record a 192-run victory over Sri Lanka with Zaheer Abbas (Player of the Match) scoring 97 (89). Sri Lanka managed only 138 with captain Anura Tennekoon scoring 30 with Imran Khan taking 3/15.
Road to the Final
The knockout stage of the Cricket World Cup consisted of two single-elimination rounds leading to a final. If the match was delayed due to rain there were two reserve days to play the match.
Semi Final - England vs Australia: At Headingley, Australia elected to field first, Gary Gilmour (Player of the Match) took six wickets for 14 runs as he had England at 37/7 after his 12 overs. England fell for 93 in 36.2 overs. In the run-chase, Australia collapsed to 39/6 but earned the remaining runs to record a four-wicket victory.
Semi Final - New Zealand vs West Indies: At Kennington Oval, New Zealand collapsed to 158 with Bernard Julien taking four wickets. In the run chase, Alvin Kallicharran (Player of the Match) scored 72 and laid the foundation for a five-wicket victory.
Final - Australia vs West Indies: The final was played at Lord's on June 21 (Midsummer of that year), a sunny day, in front of a capacity crowd of 26,765. Dickie Bird and Tom Spencer stood as umpires. Australia won the toss and invited the West Indies to bat, hoping to make use of ideal bowling conditions. The first moment of drama came when opener Roy Fredericks was dismissed hit wicket; he hooked a bouncer from Dennis Lillee for six, but in his follow-through lost his balance and knocked the bails off.
Australia were on top at 50/3 when West Indian captain Clive Lloyd came to the crease and joined the veteran Rohan Kanhai. The pair swung the match in the West Indies' favour by putting on 149 for the fourth wicket. Kanhai played the anchor role, not scoring for 11 overs, while Lloyd took on the Australian bowling attack to score a blazing century in 100 minutes off 82 balls with 12 fours and 2 sixes and was dismissed for 102 (85).
Kanhai, in what would be his farewell from international cricket, scored an invaluable 55, and solid contributions from Keith Boyce and Bernard Julien helped the West Indies close their innings at 291/8. Burly left-arm seamer Gary Gilmour was the pick of the Australian bowlers with 5/48, backing up his amazing semi-final performance.
The Australian run chase began steadily enough; at 20 overs, the Aussies were at 80/1 with Alan Turner and Captain Ian Chappell taking advantage of an easy pitch and fast outfield. Then Vivian Richards, left his mark on the match with three run-outs. First, he swooped in and dismissed Turner with a direct hit from close range, then Greg Chappell was also out with a direct hit after a slight misfield.
Doug Walters came in and helped his captain steady the ship. Australia were at 162/3 in 39 overs when captain Ian Chappell, facing his opposing captain, pushed a ball to the left of mid-wicket and started off for a run. He hesitated initially when he saw Richards approaching, but started off again after Richards fumbled the ball, only to be caught short of the crease by Richards' lightning recovery and return to Lloyd at the bowler's end.
Ian Chappell scored 62 (93). When Dennis Lillee joined Jeff Thomson as the last man, Australia required 59 off seven overs. The duo kept the game alive, putting on an unlikely last-wicket stand of 41. With three overs remaining, the game reached an unlikely climax when Lillee hit a no-ball to Fredericks at extra cover off Holder, and the crowd rushed onto the field oblivious to the umpire's call. Amid the chaos, Fredericks attempted a run-out but missed and the ball disappeared into the crowd.
Lillee and Thomson kept running between the wickets until the crowd were dispersed. When play was resumed, the umpires decided to give Australia two runs and after a protest from Thomson, they awarded three. Keith Boyce took 4/50 and a fifth run-out saw Australia all out for 274. The West Indies won by 17 runs and Prince Philip, the Duke of Edinburg presented the Cricket World Cup to Clive Lloyd.
The West Indian captain was also the unanimous choice to be honoured the 'Player of the Match' for his brilliant batting.
The West Indies squad for 1975 World Cup: Clive Lloyd (captain), Keith Boyce, Roy Fredericks, Maurice Foster, Lance Gibbs, Gordon Greenidge, Vanburn Holder, Bernard Julien, Alvin Kallicharran, Rohan Kanhai, Collis King, Deryck Murray, Andy Roberts, Vivian Richards and Clyde Walcott (manager).
World Cup Heroes
Glenn Turner of New Zealand was the tournament's leading scorer with 333 runs in four games which included an unbeaten 171 against East Africa, the highest score of the tournament. In second place was England's Dennis Amiss (243) and Pakistan's Majid Khan (209) rounded out the top three. Keith Fletcher of England (207) and Alan Turner of Australia (201) ended up fourth and fifth respectively.
Australian Gary Gilmour became the tournament's leading wicket taker with 11 wickets from his two games, which included the best tournament figures of six wickets for 14 against England. Bernard Julien and Keith Boyce of the West Indies finished in second place with 10 wickets each while Dayle Hadlee of New Zealand and Andy Roberts of the West Indies ended up with eight wickets each.
(The author is an Associate Professor, International Scholar, winner of Presidential Awards and multiple National Accolades for Academic pursuits. He possesses a PhD, MPhil, and double MSc. His email is [email protected])