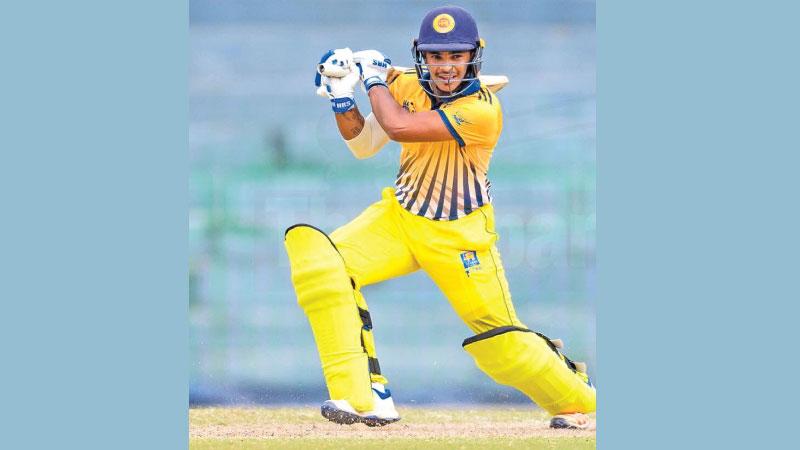 Sandun Weerakkody showed plenty of promise as a south paw batsman and made his first ODI fifty in only his second match, but was never a regular member of the Sri Lanka team.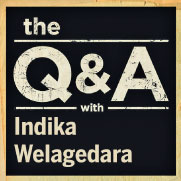 Was he a victim of a bad player-management system or no system at all? Why then has be been confined to the where-are-they-now files? These are questions that will make some people guilty.
Weerakkody is a past cricket captain of Dharmaraja College, Kandy and plays for the Nondescripts Cricket Club (NCC) in Colombo.
In August 2018, he was named in Kandy's squad for the 2018 SLC T20 League and in the following year was named in Galle's squad for the 2019 Super Provincial One Day Tournament.
On December 19, 2019, Weerakkody scored the fastest List A century by a Sri Lankan batsman making 101 not out from 39 balls for the Sinhalese Sports Club (SSC) against the Burgher Recreation Club (BRC) in the 2019/20 Invitation Limited Over Tournament. In August 2021, he was named in the SLC Reds team for the 2021 SLC Invitational T20 League tournament.
On January 20, 2023, during the National Super League, he scored his 11th First Class Century against the Colombo team making 144 with 18 boundaries and four sixes.
In January 2017 he was named in Sri Lanka's ODI squad for the series against South Africa making his debut by scoring five runs. But he smashed a half century in his second match.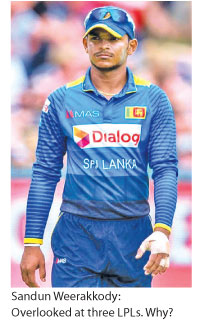 "My biggest disappointed has been my non-selection for the LPL for the past three years," said Weerakkody in an interview with the Sunday Observer.
One lesson he has learnt from his disappointments is not to trust people who give him false hopes and promises.
Excerpts of an interview:
Q: Describe yourself in one word?
Sensitive
Q: Any words or phrases you overuse?
Baba (when addressing my wife)
Q: What is your most marked characteristic?
Kindnesses
Q: What is the most important thing in your life?
Family
Q: Who has influenced you the most?
Wife
Q: Are you fashionable?
Yes
Q: If you had access to a time machine what would you change?
Running back to my childhood and going to school again
Q: What motivates you in your life?
My failures
Q: If you could choose any career right now, what would it be?
Business
Q: What forms of music do you listen to?
Old hits
Q: What's the best thing you would like to hear?
Sandun you look nice today
Q. What made you choose sports?
Nothing, I just choose it as I love it
Q. Thus far what was your most unforgettable sporting incident?
When I tested positive for Covid-19 when I was in the Bubble for the Indian series
Q. What's your best school sporting achievement?
I have been very lucky and proud to captain my First Eleven school cricket team at Dharmaraja College Kandy
Q: What is your idea of happiness?
Mental peace and healthiness
Q: What has been your biggest disappointment?
Not being selected for the LPL for the last three years
Q: Most important lesson life has taught you?
Not to believe people who are around me