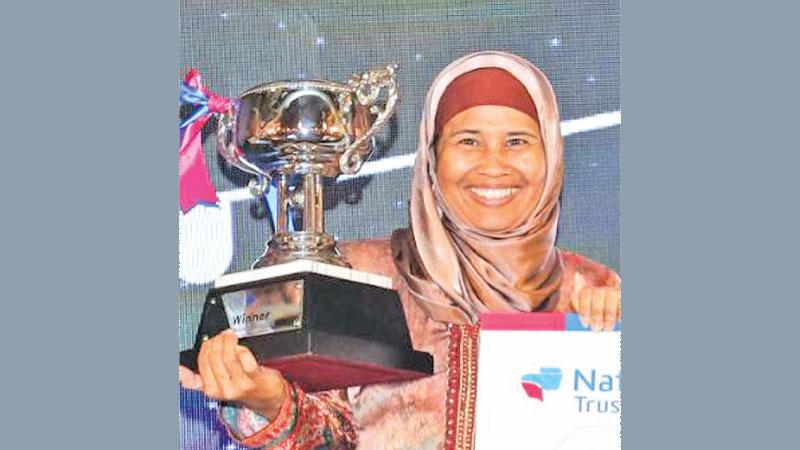 Gnei Jehan Lye emerged the overall winner in the Nations Trust Bank golf championship held at the Royal Colombo Golf Club (RCGC) course last weekend.
This golf championship that is held for the eighth year in partnership with RCGC saw nearly 230 golfers turn up and tee off to a Shot Gun start.
Shanil Fernando was declared the Nations winner at this championship.
In the silver division for women there was an interesting finish with Myunggock Jane Hong and Niloo Jayathilake obtaining similar scores of 40 points, but Myunggock was declared the winner as she had a better score on the back nine holes.
The division B event for men with a handicap of 10 to 18 also saw two golfers finishing with similar stableford scores of 41 points. Dulanka Weraduwage took the edge over S. Vairavanathan with a better score on the back nine holes.
Vivian Fowler Watt won a special award for the hole in one on the 16th hole.
Nimal Ranchigoda had the longest drive, while the Private banking closest to the pin was won by Joel Joseph.
Results:
(overall winners)
Nations Trust GolfChampionship:
Winner: Gnei Jehan Lye
Nations Winner: Shanil Fernando
Women:Bronze Division
Winner:- Dinoo de Mel 40 Points
Runner-Up:– Jade Jiggens 38 Points
Silver Division
Winner:- Myunggock Jane Hong 40 Points B/B 9
Runner-Up:- Niloo Jayathilake 40 Points
Seniors:
Winner:– Lucian Ratnayake 36 Points
Runner-Up:– S. Jegatheeswaran 35 Points
Masters:
Winner:– T. Fernandopulle 41 Points
Runner-Up:– ML Hirdaramani 40 Points B/B 9
Division C:- Handicap 19 – 28
Winner:– Rajitha Siriwardena 44 Points
Runner-Up:– Ashok Pathirage 43 Points B/B 9
Division B:- Handicap 10 – 18
Winner:– DulankaWeraduwage 41 Points B/B 9
Runner-Up:– S. Vairavanathan 41 Points
Division A:- Handicap 0 – 09
Winner:– Lallith Rohith 40 Points
Runner-Up:– Viran Perera 39 Points B/B 9
Special Awards:
Amex longest drive winner: Nimal Ranchigoda
Private banking closest to the pin: winner: Joel Joseph.
Hole in One 16th hole winner: Vivian Fowler Watt