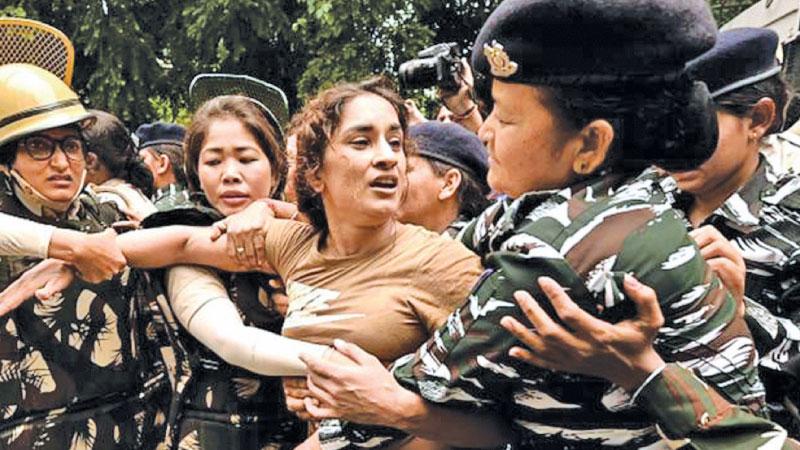 The International Olympic Committee (IOC) has condemned the way India's top wrestlers are being treated during their ongoing protest.
It has also demanded an investigation into allegations that Indian wrestling chief Brij Bhushan Sharan Singh sexually harassed female athletes.
The wrestlers were temporarily detained by police on Sunday as they tried to march to the new parliament building.
They were demanding the resignation and arrest of the federation chief.
Mr Singh, who is also an influential MP from the governing Bharatiya Janata Party (BJP), has denied the allegations and accused the wrestlers of being "politically motivated".
On Tuesday, he told reporters that the Delhi police was investigating and that they would arrest him if they found anything against him.
"Let the investigation take place, it is in the hands of Delhi police," he said.
Olympic medallists Sakshi Malik and Bajrang Punia and two-time world champion medallist Vinesh Phogat, were among those who were detained and later released by the police on Sunday. The police also filed cases including of rioting against them.
Visuals of the athletes being dragged and carried off in buses went viral, sparking criticism from top athletes and opposition politicians.
In a statement on Tuesday night, the IOC "urged the safety and wellbeing of these athletes" and called for "a speedy conclusion" of the investigation.
It said it had been in close contact with United World Wrestling (UWW) - the international organisation governing amateur wrestling - over the situation.
The UWW also issued a statement on Tuesday saying that it was following "with great concern" the wrestlers' protests "over allegations of abuse and harassment by the president of the Wrestling Federation of India (WFI)".
(BBC sport)