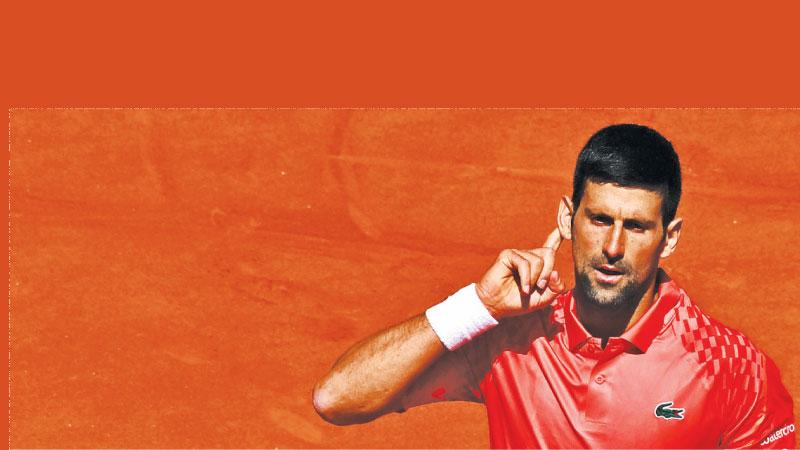 Novak Djokovic wrote a political message about Kosovo on a camera lens after beginning his quest for a record 23rd men's Grand Slam singles title with victory at the French Open.
Serbia's Djokovic claimed a 6-3 6-2 7-6 (7-1) win over Aleksandar Kovacevic.
After beating the American, Djokovic wrote: "Kosovo is the heart of Serbia. Stop the violence."
The statement was a reference to recent tension in Kosovo, which declared independence from Serbia in 2008.
Serbia has never recognised Kosovo's independence and there has been violence in the past days following the installation of ethnic Albanian mayors in the north of the country, with police and Nato troops clashing with Serb protesters.
Speaking to Serbian journalists, Djokovic, whose father was born in Kosovo, said: "This is the least I could have done. I feel the responsibility as a public figure - doesn't matter in which field - to give support.
"Especially as a son of a man born in Kosovo, I feel the need to give my support to our people and to the entirety of Serbia.
"My stance is clear: I am against wars, violence and any kind of conflict, as I've always stated publicly.
"I empathise with all people, but the situation with Kosovo is a precedent in international law.
"I am very sorry for the situation that we are in - Kosovo is our heart, our stronghold, the centre of historically most important events for our country, the biggest battle happened there, our most important monasteries and temples are there."
The French Tennis Federation, organiser of the Roland Garros event, said there are no official rules on what players can or cannot say at Grand Slams.
Djokovic was involved in a political row at January's Australian Open after his father, Srdjan, was filmed posing for pictures with supporters of Russia president Vladimir Putin.