Cricketer MS Dhoni has announced that he will not retire after winning a record fifth Indian Premier League (IPL) title.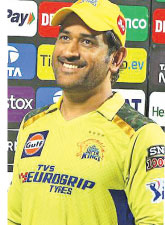 The former India captain, 41, was expected to retire from all forms of cricket but said that love from his fans has made him give it another try. Led by Dhoni, the Chennai Super Kings beat the Gujarat Titans on Monday night to win the trophy.
The "double good news" sparked massive celebration by fans on social media.
One Chennai Super Kings supporter called Dhoni's decision not to retire "a great gift" for fans of the team.
"Allowing CSK and the fans to savour the moment by not announcing his retirement is classic Dhoni!" another fan said. (BBC sport)