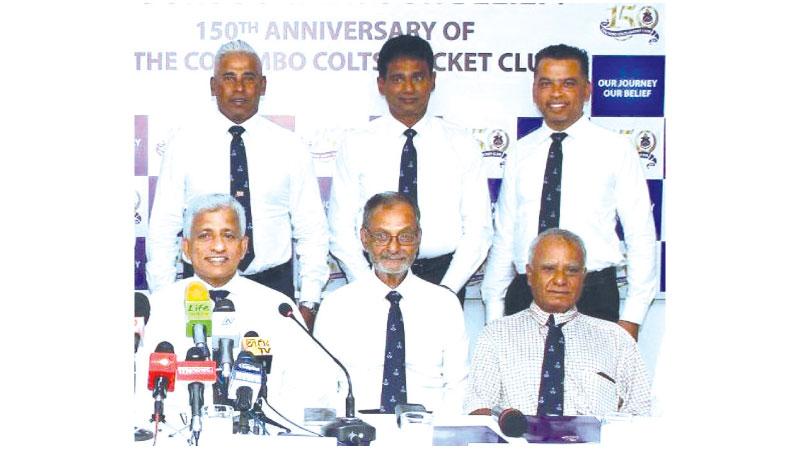 An Invitational six-a-side cricket tournament on June 10 and 11 will herald the start of the 150th anniversary celebrations of Colombo Colts Cricket Club (CCC), the club's president Nishantha Ranatunga disclosed.
Ranatunga made the announcement at a media briefing at the club house on Thursday (1), the day the anniversary began in the presence of executive committee members along with Dinesh Wickremanayake (club captain), M. Ratnaharan (treasurer), Trevor Rajaratnam (patron), Chaminda Vaas (ECM), Chaminda Mendis (vice president), Maj. Gen. Shiran Abeysekera (secretary) and Chaminda Ratnayake (social secretary).
The cricket tournament will see 16 top teams in action of which four will be women's teams.
The men's teams will bring together some of the most prominent cricket teams from across the country. This will showcase the skills and sportsmanship that have made Colts a symbol of cricketing excellence all these years.
Colts CC will also conduct a special billiards tournament that will be held over two weekends starting on July 21.
The tournament will feature talented cueists from clubs around the country who are involved in promoting the game.
The club will also conduct a nine-a-side hockey tournament at the Police Park on August 5 and 6. This will also see men's and women's teams in action.
"As part of the celebrations Colts CC will host a Legends Night on September 23 and will invite cricketing greats who have represented the club throughout its illustrious history. This event will allow fans and supporters to interact with these legendary players, listen to their stories and gain insights into the club's remarkable journey," said Ranatunga.
A book on the history of the club's achievements during the 150 years will also be published.
The anniversary celebrations will culminate in a grand gala dinner on October 21 at the club premises. This will be attended by esteemed guests, club members, players and invited cricket enthusiasts. Ambassadors of all cricket playing nations too will be invited.
Colts Cricket Club was inaugurated in 1873 and the first president was an Englishman named Wilfred Van Wick who occupied the seat for 12 years and their first club house was at Dam Street in Colombo.
The club had a legend in cricket by the name of Tommy Kelaart who was a fine bowler during his days.
Colts Cricket Club had also moulded the careers of illustrious players like Tita Nathaniels, Darrel Levers, Roy Dias, Angelo Mathews, Chaminda Vaas, Ranjith Samarasinghe, Bernard Rulach, Duleep Samaraweera, Thisara Perera and Romesh Kaluwitharana among others.