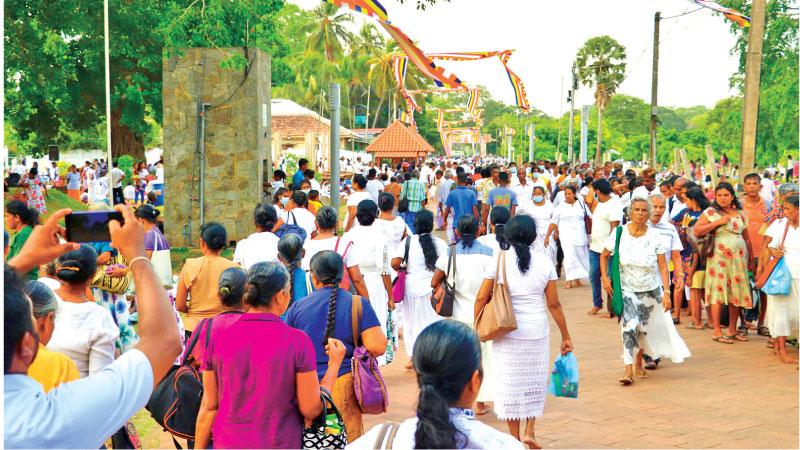 Around one million pilgrims have gathered in the Anuradhapura, Mihintale and Thanthirimale sacred cities where the Poson religious festival - 2023 is being held.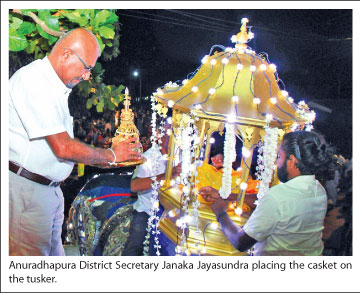 The cynosure of the Poson festival, the traditional Arahat Mahinda Poson perahera at Mihintale was conducted on Friday (June 2) which started close to the Rajarata University and proceeded to the Mihitale historic Katu Seya.
Anuradhapura District Secretary Janaka Jayasundara on the invitation of Mihintala Rajamaha Viharadipathi Ven. Dr. Walawahangunawewa Dhammarathana Nayaka Thera placed the casket of relics on the tusker at the auspicious time.
The Maha Sangha and Anuradhapura Additional Government Agents Sandya Abesekara and Shamila Wickramaarachchi, District Samurdhi Director W.A. Wasantha, Mihintale Divisional Secretary Anuruddha Nayaka Bandara were also present at the inaugural ceremony.
The Mihintale Mihindu perahera is conducted in honour and commemoration of Arahat Mahinda Thera who endowed the country with the noble teachings of the Buddha making King Dewanampiyathissa and the countrymen to take to nonviolence 2331 years ago.