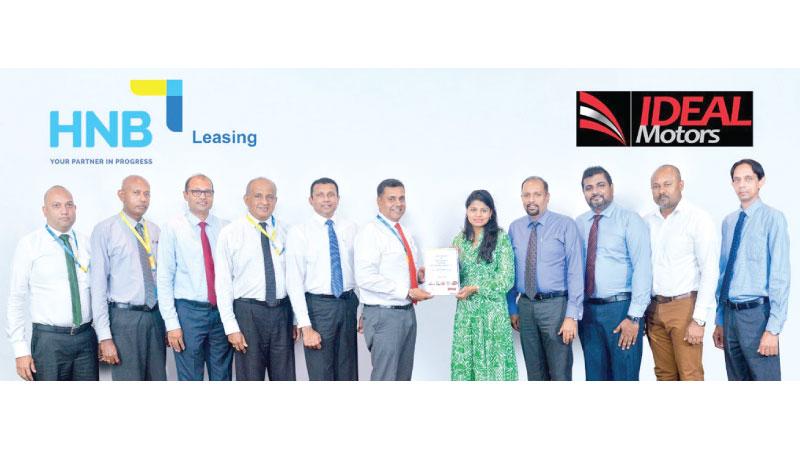 HNB PLC renewed its partnership with local automobile dealer for Mahindra vehicles and generators, Ideal Motors, to offer customers a wide range of benefits anchored to low interest rates.  The ceremony was held at Ideal Motors Head Office.
HNB DGM, Retail and SME, Sanjay Wijemanne said, "The uncertainties we have faced over the past two years have really affected transport for a significant portion of the population, especially affecting potential vehicle owners and SMEs exploring the possibility of buying vehicles for logistics. In that context, we are happy to partner with Ideal Motors, and together we are confident in our ability to provide the best services and repayment plans to ensure convenient access to the range of Mahindra automobiles." 
HNB will offer customers a range of attractive financing options and benefits for Bolero trucks and KUV vehicles. Customers will also enjoy special interest rates for Mahindra generators during the promotional period, with the flexibility to adjust rates based on market changes. 
Customers also have access to attractive discounts for vehicle insurance premiums from HNB General Insurance together with a free accidental life insurance cover. As a further bonus, customers who purchase Mahindra vehicles will receive a value-added 'Prestige Prime' credit card, offering access to special discounts on automobile products, servicing, spare parts, tyres, batteries. HNB will waive off the first-year annual fee.
Ideal Motors Director, Legal and Marketing, Nimisha Welgama said, "Despite the challenges we face in the ever-evolving automotive industry, our commitment to providing outstanding services and value to customers remains unwavering. This renewed partnership with HNB is a testament to our shared dedication to meet the needs and aspirations of our customers.
"We understand the importance of affordability and quality, and through our collaboration with HNB, we aim to make owning a Mahindra vehicle an attainable dream for many. With our combined expertise and customer-centric approach, we are confident that we can deliver attractive offers and financing options that will enhance the overall car-buying experience,"  she said.
Customers can also enjoy a range of benefits and personalised services as part of this partnership.