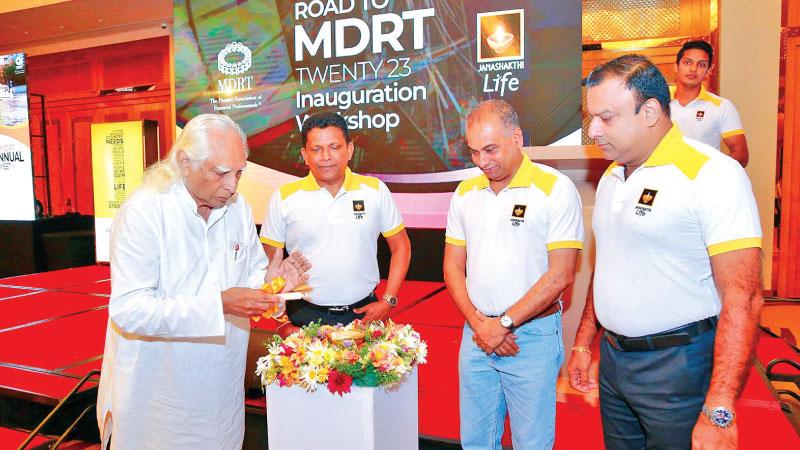 Janashakthi Life, a life insurance provider, launched "Road to MDRT" at the Marino Beach Hotel in Colombo recently.
The event focused on a comprehensive training program by the company's Learning and Development department: The program showcased effective tools, methods, and techniques aimed at enhancing performance. The event recognised and celebrated the exceptional achievements of the top performers in the company.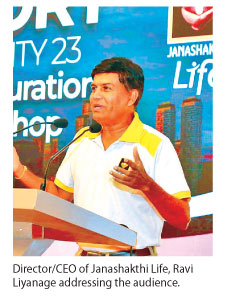 Founder and Chairman Emeritus of the Janashakthi Group, Chandra Schaffter was the chief guest. The management team of Janashakthi Life, and the group of MDRT (Million Dollar Round Table) aspirants, were also present.
C.T.A Schaffter imparted valuable insights from his illustrious career spanning several decades.
Special guest, Senior Vice President, Corporate Affairs, at Lion Brewery. Keerthi Kanaheraarachchi also shared insights on his career journey and emphasised the significance of maintaining a positive mindset to overcome challenges successfully.
The event recognised over 90 MDRT aspirants of 2022, commending their exceptional professional knowledge, ethical conduct, and remarkable client service.
MDRT is a global, independent association of the world's leading life insurance and financial services professionals, with 66,000 members in 72 countries from more than 500 of the world's leading companies. MDRT membership is internationally recognised as the standard of excellence in the life insurance and financial services business.
Director and CEO of Janashakthi Life, Ravi Liyanage said, "Our sales team's professional reputation and commitment to excellence showcases the company's global standards in our products and service approach. It's exciting to witness their passion, dedication, and relentless pursuit of new heights. We congratulate them on their achievements."
He said that the launch of Janashakthi Life's "Road to MDRT 2023" signifies the company's dedication to investing in its employees and maintaining its commitment to global standards of excellence.