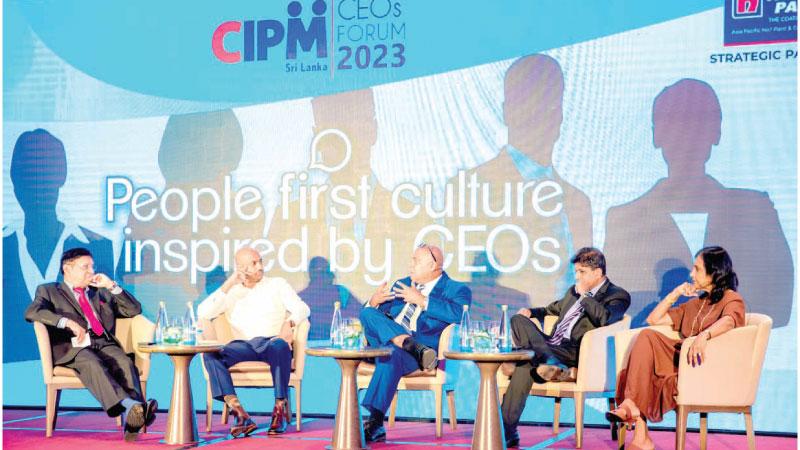 CIPM Sri Lanka held a CEOs' Forum on "People First Culture inspired by CEOs" at the Shangri-La hotel recently.
Over 100 CEOs from multiple industries were present.
CEO of Standard Chartered Bank, Sri Lanka, Bingumal Thewarathanthri delivered the keynote address focusing on the People First Culture emphasising on the role of HR in Business particularly at a time when Sri Lanka had experienced a pandemic followed by recent episodes such as political unrest, economic downturn, high inflation which had far-reaching consequences on the country.
He outlined several HR practices which had been introduced at Standard Chartered Bank during these difficult times which particularly included work from-home arrangements, employee well-being, laptops for staff which had strengthened motivation within the workforce.
He cited his experience in Nigeria, Zimbabwe, and South Africa and gave insights on what he had experienced while working overseas.
Elaborating on the "People First Culture", he endorsed the view that the people factor is of the highest importance in difficult times particularly. He touched on flexible working hours, leadership roles, and CSR projects which are key aspects of Human Resource Management priorities.
The other panel members also made strong contributions during interactive discussions with a highly knowledgeable audience of CEOs from multiple organisations.
President of CIPM Sri Lanka, Ken Vijayakumar, said the 'People First Cultures' should be driven by CEOs as they are aware of the inner workings and the company culture within which employees must work. 
He said that the CIPM is successfully shouldering the task of moulding HR professionals who can be future CEOs. Sharing their ideas and experience, the CEOs emphasised that a "People First Culture" prioritises the need for employee satisfaction and fulfilment with the understanding that a happy workforce translates to better productivity and higher business outcomes.
It was emphasised that Corporate Social Responsibility and Sustainability played a vital role in delivering better performance results.
The panel of experts comprised Bingumal Thewarathanthri, CEO CBL Foods International, Dr Samitha Perera, Chairman and Managing Director Jetwing Travels, Shiromal Cooray and Executive Group Director Capital Maharaja Group, Chevaan Daniel.
The discussion was moderated by Chairman and Managing Director, Mcquire Rens & Jones, Dr. Nalin Jayasuriya.
Vice President and Chairman of the CEOs' Forum of CIPM, Priyantha Ranasinghe, Immediate Past President, Office Bearers, and council members of the Executive Council, Members of the Standing Committee on HR Profession as a Leading Strategic Partner for Organisational Excellence participated with CEO, Directors, and Senior Management of CIPM.