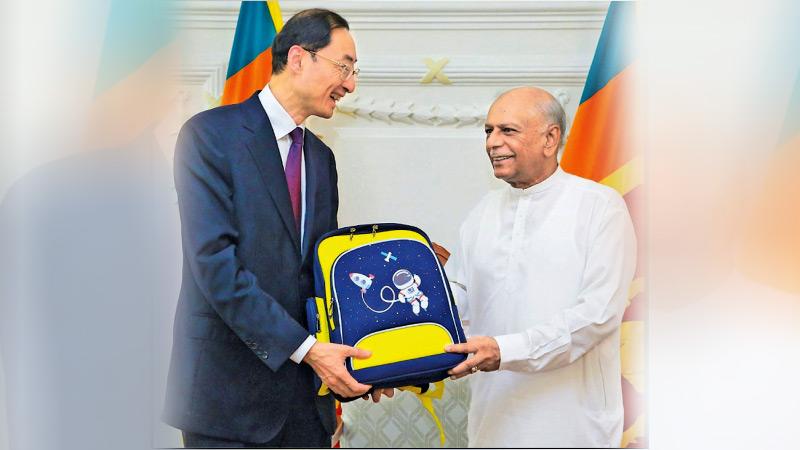 Chinese Vice Minister of Foreign Affairs, Sun Weidong said Sri Lanka is a longtime friend of China and his country will always stand by Sri Lanka's sovereignty as well as for political independence and socioeconomic development.
He stated this when he called on Prime Minister Dinesh Gunawardena at the Temple Trees yesterday (May 30). The Vice Minister assured that China will increase investments in several areas such as agriculture, trade and   commerce, ports and infrastructure development in Sri Lanka. He also said China will continue to provide economic assistance as well as support Sri Lanka's debt-restructuring programme.
The Prime Minister expressed gratitude for the Government of China for the help given at natural calamities such as Tsunami and the Covid pandemic as well as for the efforts to overcome current economic crisis.
He made a special mention about the humanitarian assistance and medical aid to Sri Lanka by way of providing shipments of Sinopharm vaccine, medical masks, COVID-19 test kits and other health equipment to battle the pandemic, further strengthening the solidarity between the two countries.
The Prime Minister, referring to the recent visit of the Governor of the Yunnan Province, expressed confidence that the fruitful discussions held during the visit would enhance cooperation in the agriculture sector. He said China could invest in the agriculture projects in the area to be irrigated under the Malwathu Oya project and vegetable and fruit products could be exported to China.
The Chinese Vice Minister expressed deep appreciation to Sri Lanka's adherence to One China Policy despite pressures from many quarters. Prime Minister Gunawardena said Sri Lanka has enjoyed excellent friendly relations with China for many centuries, throughout which Buddhist relations have been continuing.
Vice Minister Sun Weidong said China has taken steps to establish a strong cooperation with Sri Lankan Buddhist Associations to further religious ties.
Minister Sun Weidong has donated 10,000 sets of school bags and supplies stationary, picture books, oil colour boxes, pencils and pen boxes, sharpeners and erasers, colour oil painting, rulers, water bottles, insulated lunch Boxes and fabric of white plain shirt and skirt 33,000 meters, fabric of blue twill pants 10,000 meters for distribution in schools.
Environment Minister Ahamed Naseer, Deputy Speaker Ajith Rajapakse, MP Yadamini Gunawardena and Chinese Ambassador Chinese Ambassador to Sri Lanka Qi Shenhong and senior officials of Chinese Foreign Ministry were present on this occasion.