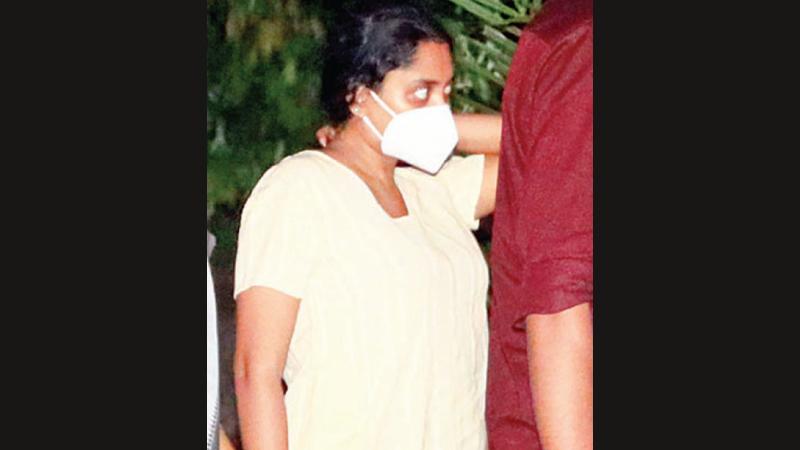 Natasha Edirisuriya, who allegedly insulted Buddhism during a concert held at a leading Girl's School in Colombo, was ordered to be remanded until June 7 by Fort Magistrate Thilina Gamage yesterday.
Edirisuriya who was arrested when she arrived at the Katunayake Bandaranaike International Airport to leave for Singapore yesterday morning was produced before the Magistrate at his official residence yesterday evening.
The CID informed court that they have received complaints from the Commissioner of Buddhist Affairs and 15 Buddhist monks against the suspect. The CID informed the Magistrate  they are charging her under the provisions of the International Covenant on Civil and Political Rights (ICCPR) Act.
The Magistrate made this order taking into consideration the matters presented that her attempt to leave the country during the investigation of these complaints may hinder the investigations and a public disturbance may occur due to her comments.
The bail request made by her lawyers on behalf of the suspect was refused. The court was informed that a group including the suspect, Dasatha Lanka Hasalaka Thushara, had released this video on the YouTube channel called SL Vlog and 21000 viewers had watched it so far.
The CID informed the court that a public disturbance may occur due to this religious hate speech and requested the court to remand her in custody.
Appearing on behalf of the suspect, her lawyers said that the her comments were only made as a joke.
Her lawyers informed the court that the ICCPR does not apply to something said in jest. The magistrate questioned whether it was appropriate to joke about religious matters.
The CID informed the court that this is the first time that the Commissioner of Buddhist affairs has submitted such a complaint and said that if she is released on bail, there may be a big public disturbance. Taking all the facts into consideration, the magistrate ordered the suspect to be remanded and told the CID to report the progress of the investigation to the court in the next day.
A group of officers from the Colombo Computer Crime Investigation Division had arrested Edirisuriya at the BIA. Edirisuriya had allegedly made comments at a show titled 'Modabimanaya', disrespecting the Buddhist philosophy and culture. The 31-year-old woman, a resident of Mount Lavinia, was arrested at the Katunayake airport departure terminal at around 1.20 am yesterday morning. She has told the police that she had no intention of insulting Buddhism. Police officer said that since there is information that she was a person who was in the Aragalaya protest, they are looking into the matter with special attention.
As Pastor Jerome Fernando, who insulted Buddhism, also fled to Singapore a day before getting a flight ban from court, the officers of the Computer Crime Investigation Division of the Criminal Investigation Department had given information about her to the Katunayake Airport unit and informed them to prevent her from leaving the country.