Navy pugilists punched their way to glory winning a total of 16 medals to take the major honours at the Novices Boxing Meet 2023 for men and women conducted by the Boxing Association of Sri Lanka.
They won eight gold medals (five men and three women) with a dominant performance in the finals at the Royal MAS Arena on Friday.
Navy also dominated the podium with their men's Feather weight (under 57kg) winner Sandun Priyankara and women's Light Fly weight (under 50kg) winner Maleesha Jeewanthi Konara receiving the Best Boxer awards.
Priyankara, 24, an old boy of Peradeniya Junior Secondary School, who bled profusely from a cut above his left eye throughout the meet, displayed good technique and plenty of courage to beat a rugged opponent from Aloysius BC, Ratnapura Dilan Dharshamela in the final to win by a split decision.
Police's R Paventhiran who lost to Sanjika Kaluhendiwala of Uphill BC in a closely contested Light Middle weight (under 71kg) bout by a split decision, was consoled with the Best Loser's award.
Maleesha Jeewanthi Konara, 22, a past pupil of Yasodara Devi Balika, Gampaha, displayed superb footwork and skills to ward off a strong challenge from Police's Dilrukshi Kumari Attanayake in a rousing Light Fly weight (under 50kg) women's final to win by a technical knock-out in the final round.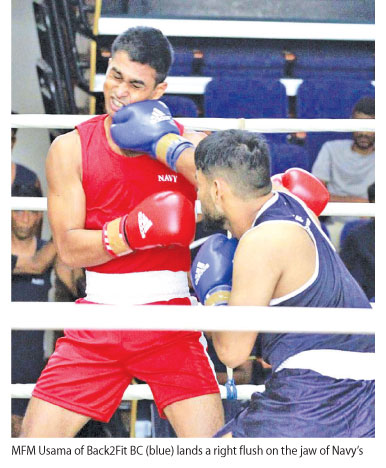 Veyangoda BC's Sachini Fernando who was engaged in a thrilling women's Bantam weight (under 54kg) contest with Police's Chamali Tharuka was consoled with the Best Loser's award after suffering a split decision.
Sachini's twin sister Yashini won the Feather weight (under 57kg) contest by stopping her opponent from Kamburupitiya BC Rashini Himasha in the first round.
Ilanka Ranmal (fly) and Madusanka Deepthiwardana (light welter) also scored impressive wins for Navy while Isuru Prabath lost a close decision to Kingswood's Kumara Rajapakse in the bantam weight final.
---
Results | Finals
MEN
Minimum weight (46-48kg) - Danil H Thisararachi (Back 2 Fit) beat H Ranidu Sanjaya (Don Leslie Boxing Academy) RSC (Referee Stopped Contest) Injury R1
Fly (48-51kg) - Sellahandi Ilanka Ranmal (Navy) beat KMDG Randika Priyashan Kekulandara (Back 2 Fit BC) WP (Win on Points) 5:0
Bantam (51-54kg) - RG Wasantha Kumara Rajapakse (Kingswood BC) beat Isuru C Prabath (Navy) WP 3:2
Feather (54-57kg) - A Sandun Priyankara (Navy) beat Dilan Dharshamela (Aloysius BC) WP 3:2
Light (57-60kg) - SG Damith Sudarshana Bandara (Navy Dreadnaughts) beat MR Aflal Ahamed (Uphill BC) WP 5:0
Light Welter (60-63.5kg) - Prasan Milinda Madusanka Deepthiwardana (Navy) beat KT Midaraka Madubashana (Police) WP 4:1
Welter (63.5-67kg) - AMAG Ravindu Sandeep Bandara Abeykoon (Western Ringside BC) beat Mohana Kumar Nagalakshuman (Hanwella Rajasinghe BC) RSC R1
Light Middle (67-71kg) - HMN Sanjika Kaluhendiwala (Uphill BC) beat R Paventhiran (Police) WP 3:2
Middle (71-75kg) - M Fareed M Usama (Back 2 Fit BC) beat HM Supun Madusha Herath (Navy) RSC R3
Light Heavy (75-80kg) - SM Tharindu DB Samarasekera (Navy) beat Nimesh P Gunathilaka (Uphill BC) KO (knock out) R1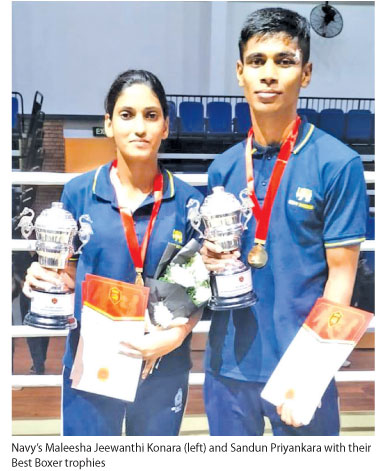 Cruiser (80-86kg) - Bryan Tissera (YLBR BC) beat M Uwais (Western Ringside BC) RSC R2
Heavy (86-92kg) - Joseph Pramod Kaushalya (Navy) beat Peter F Menthro (Western Ringside BC) Walk-over
Super Heavy (92+kg) - PA Ramesh Lakshitha Vinod (Navy) beat Praveen Imalsha W Dissanayake (Kamburupitiya BC) RSC R2
WOMEN
Minimum weight (45-48kg) - AAK Kavisha (Navy) beat D Nethukalani Jayakody (Hanwella Rajasinghe BC) RSC R1
Light Fly (48-50kg) - KM Maleesha Jeewanthi Konara (Navy) beat AM Dilruskshi Kumari Attanayake (Police) RSC R3
Fly (50-52kg) - GMM Anoma Gunathilaka (Police) beat MD Kaveesha Devindi (Hanwella Rajasinghe BC) RSC R2
Bantam (52-54kg) - GWG Chamali Tharuka (Police) beat SH Sachini R Fernando (Veyangoda BC) WP 3:2
Feather (54-57kg) - SH Yashini R Fernando (Veyangoda BC) beat HH Rashmi Himasha (Kamburupitiya BC) RSC R1
Light (57-60kg) - LR Sasikala Sasangi (Navy) beat KA Prasadani Kaushalya (Hanwella Rajasinghe BC) RSC R2
Special awards
Best Boxer (men) -AS Priyankara (Navy)
Best Loser (men) -R Paventhiran (Police)
Best Boxer (women) -KMMJ Konara (Navy)
Best Loser (women) -SHSR Fernando (Veyangoda BC)