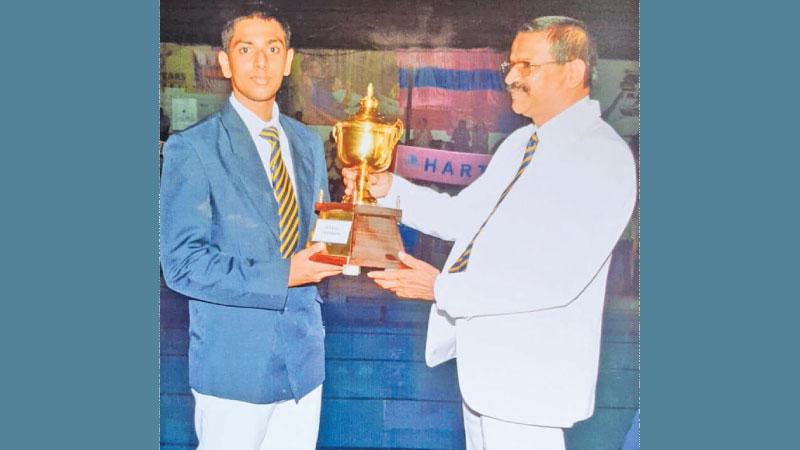 Banuka Jayathilaka, the 2023 swimming captain won the most outstanding award for swimming while diving captain Matheesha Marambe bagged the most outstanding diver award at the Royal College inter house aquatic meet as Hartley House emerged overall champions at the Royal College Swimming Pool Complex closely followed by Harward House in the meet that featured all three water sports of swimming, diving and water polo.
The meet saw the participation of over hundred students from under 9 to19.
In water polo, Hartley House defeated Marsh House in the final by 7-4 goals.
Yahan Samarajeewa who was the first Crownsman for school swimming and water polo and then went on to win Silver and Bronze medals in the South Asian Swimming Championship 2007and led the Silver medal winning Sri Lanka team at Asia Pacific Water Polo Championship 2015, was the chief guest at the awards ceremony.
Royal College principal RMM Ratnayake, Senior Games Master MR Riyaz Aluher and master in charge for swimming and diving Jayantha Gunasekara also participated in the awards ceremony and presented medals and certificates.
Swimming winners
Under 09: Anirudh Weerakkody
Under 11: Akain Insara
Under 13: Ruel Wickramarathna
Championship - Sulaiman Shihar
Under 15: Geesath Fernando, Bimansa Poojana
Championship - Senupa Rathnayaka
Under 17: Bihandu Katugampala
Championship - Rahul de Silva, Yusuf Shihar, Hithesh Jayawardena
Under 19: Shehan Siriwardena
Championship - Himsara Ariyawansa
Most Outstanding Swimmer- Banuka Jayathilaka
Diving - winners
Navinu Tikesh
Championship-Anirudh Weerakkody
Under 11: Sushen Wijesinghe
Championship - Raphael Jayaweera
Under 13: Thisen Vithana
Championship - Ruel Wickramarathne
Under 15: S.Shanthosh
Championship - Mikhail Jayaweera
Under 17: Chanithu Geeneth
Championship - Yusuf Shihar
Under 19: Udesh Dissanayake
Championship - Matheesha Marambe
Most Outstanding diver - Matheesha Marambe
Waterpolo champions: Hartley house team - Dimeetri Liyanage, Yasandu de Silva, Haathim Ariff, Muhammad Maznavi, Ayaan Azim, Idris Zuhry, Indeev de silva, Ovindu Kaluarachchi, Yusuf Shihar, Imaad Ismath, Raaid Bary, Talal Bary and Thusith Liyanage