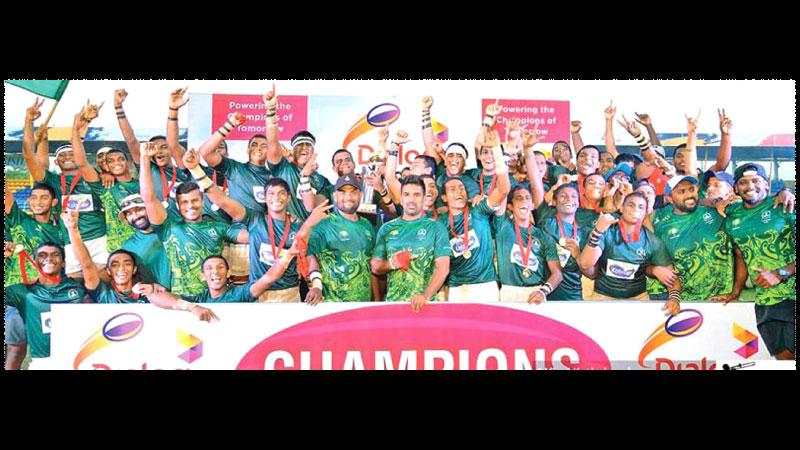 Isipathana and Joes claim they are favourites, Royal say Peterites and Martis says Royal:
As the clock ticks towards yet another inter-school League rugby championship kick off, independent experts are making no prediction towards a possible winner with as many as four teams having their chances of laying their hands on the Dialog trophy.
Isipathana College move out as the defending champions having probably the best chance to retain the prize but teams like Royal College and St. Peter's College cannot be counted out when the tournament begins on June 14.
For a start, news from the Isipathana camp is that they will have to contend with a few injury concerns that is unlikely to trouble them to a large extent.
Last year Isipathana emerged unbeaten League champions after overcoming Royal College 21-15 in the deciding match played at Havelock Park and went on to complete a grand double by defeating St. Joseph's College 49-22 in the President's Trophy Knock-Out Tournament final at the Royal Complex ground.
They will start off the season with a title already to their credit in the form of the inter-school Sevens that they won by beating the Peterites in the final last month.
Isipathana are drawn in Group 1 alongside last year runners-up St. Joseph's, Wesley, S. Thomas', St. Anthony's, Kingswood and DS Senanayake while Group 2 has Bradby Shield rivals Royal and Trinity, Vidyartha, Science College, Dharmaraja, St. Peter's and Zahira.
All teams will play six matches and thereafter the two top teams from each group will play against the top two ranked teams of the opposite group in the Super Round to decide the champions of the tournament.
Isipathana will play their first match against Kingswood on June 18 at the Bogambara Stadium in Kandy.
Some of the Isipathana players who could pose bigger challenges to their rivals would be skipper Navin Kanishka, Malith Mihisara and Rinesh Silva who are capable of punching holes in any defence.
Speaking to the Sunday Observer, Saliya Kumara the head coach of Isipathana said they were no doubt the favourites.
"Many schools play competitive rugby these days and we have some experienced players who will play this year from the champion team of last year.
"Since we have won the Sevens rugby tournament against all odds last month, I believe we are in a good position to do well this year and I can predict we are the favourites this time around as well", said Kumara.
St. Joseph's the last year's runners up will be captained by burly number eight Naveen Marasinghe and they will go into this year's tournament with their forwards set to dominate more than their usual speedy three-quarter line.
"This time our forwards will steal the limelight from our three-quarters. We will surely give a good fight to all the other schools on show and try to dominate the league tournament by being the favourites" said Nilfer Ibrahim the team's head coach.
The Joes will kick off against St. Anthony's College on June 14 at Bogambara.
In an eyebrow-raising but modest declaration Royal College coach Dushanth Lewke said he saw the Peterites as posing the biggest threat this year and his team will be captained by Number Eight Randul Senanayake.
"Both our forwards as well as the three-quarters are equally good and we will be able to give a very good fight to all our opponents this year", said Lewke.
"But I would definitely pick St. Peter's College to be this year's league tournament favourites".
The key match for the first week will be the clash between St. Peter's and Royal at Bambalapitiya on June 17.
St. Peter's had a disastrous season last year where they managed to record only a solitary win from their five matches and were placed fourth in their group.
However the Peterites lifted their spirits ahead of the League by winning the CR and FC Centenary Sevens last month and interestingly it was Royal that lost to them in the final.
This year the Peterites will be captained by flanker Ashen Madugaspe and coach Sanath Martis disagrees with Lewke that his team are favourites.
"From the last year's squad of 35 players 16 of them have left school and that's part and parcel of the game.
"If you ask me, my personal opinion is that I will rate Isipathana and Royal as the favourites. But it will also depend on what happens in the Royal-St. Peter's game at Bambalapitiya on June 17", said Peterite head coach Sanath Martis.