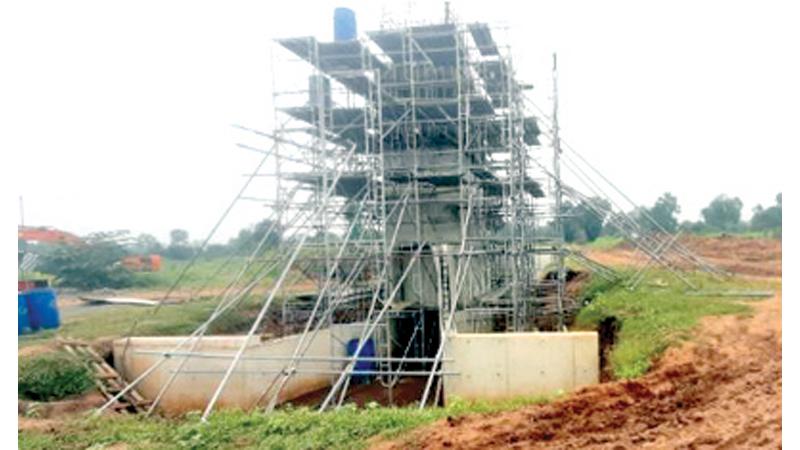 Work on the Anuradhapura Lower Malwathu Oya Multi sector development project is being carried out at a snail's pace.
The project information reveals that the majority of construction components of the project are still pending due to inadequate funds.
The lower Malwathu Oya multi- sector development project comprises construction of a reservoir holding a water capacity of 169,000 acre feet and a 3.6 km long earthen dam at Kappachchiya village in Thanthirimale at the border of the Northern and North Central Provinces.
The project includes the construction of a 3,600 m long dam across the Malwathu Oya River the second largest in the country starting from the historic Ritigala that flows into the sea at Arippu in the Mannar district.
It is learnt that during the past four years only Rs. 1055 million had been released to implement the head construction work whereas the estimated cost for the project is Rs. 30,000 million.
According to the original plan the work has to be completed in 2024 and the lower Malwathu Oya Reservoir would be the largest irrigation reservoir in the Anuradhapura district once it is completed. The physical progress achieved so far is learnt to have been 4.83 percent only.
According to project engineers the adverse effects due to the postponing of the construction work are immense and irreparable. Furthermore due to the slow progress the people living in the inundated areas cannot carry out any developments in their current land because those lands have already been acquired under the project. On the other hand they cannot use the settlement areas as well since all the construction work has stopped until further notice," a lower Malwathu Oya multi sector development project spokesman told Sunday Observer.
He said that in this context uncertainty is being felt among the local people.
He said that at this snail's pace speed of the construction it would take at least 10 years to complete the project.