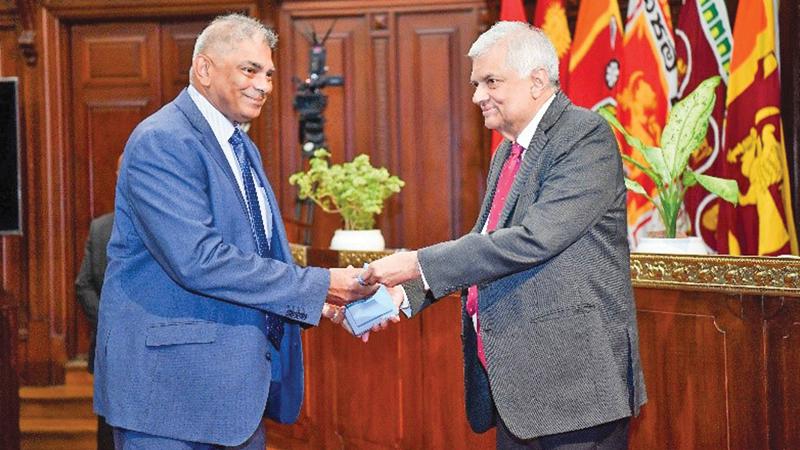 SLT-Mobitel reigns as the number one of the telecom industry in the Business Today Top 40 rankings for 2021-2022, receiving accolades for its exceptional performance, positive financial growth and contribution to the development of the economy.
The winners were recognised at a ceremony at the Presidential Secretariat graced by President Ranil Wickremesinghe as the chief guest. Politicians and corporate representatives were also present.
During 2021–2022, the nation faced unprecedented challenges. Despite several crises and demanding market socio-economic environment during the past two years, SLT-Mobitel has resolutely been able to overcome these challenges and position itself as the leader in the telecom industry,and this recognition is a testament to itscontinued commitment to excellence.
Despite the pandemic SLT-Mobitel was successful in providing uninterrupted services and supporting the migration of thousands of businesses and individuals to digital platforms. Additionally, key to its performance was its digital transformation strategy and becoming future-ready overseeing timely technology expansion. Today, SLT-Mobitel has positioned itself as a leader in the telecommunications industry,
SLT-Mobitel's receipt of this honour also demonstrates the company's delivery of cutting-edge technology and high-quality services, dedication to innovation, customer service, and sustainability.
SLT Group Chairman Rohan Fernando said, "We are honoured to be the sole telecom entity in the top ten of the Business Today TOP 40 rankings for the year 2021-2022. Through 2021 and 2022 we have been proud to post a remarkable performance, undeterred by the social and economic challenges. This prestigious award confirms our strong market position, but also testifies to the company's consistent implementation of an effective business strategy, even during the difficult period of the pandemic.
"Our team is driven by a shared passion to make a difference in the lives of our customers by providing them with innovative solutions that meet their evolving needs," he said.
The Business Today Top 40 is an annual event and this year marks the 25th anniversary of the awards. The 2021-2022 winners were recognised as the top corporate performers who reported positive financial growth amidst the turbulent situation of the country showcasing resilience, passion, and dedication while gracefully embracing the challenges.