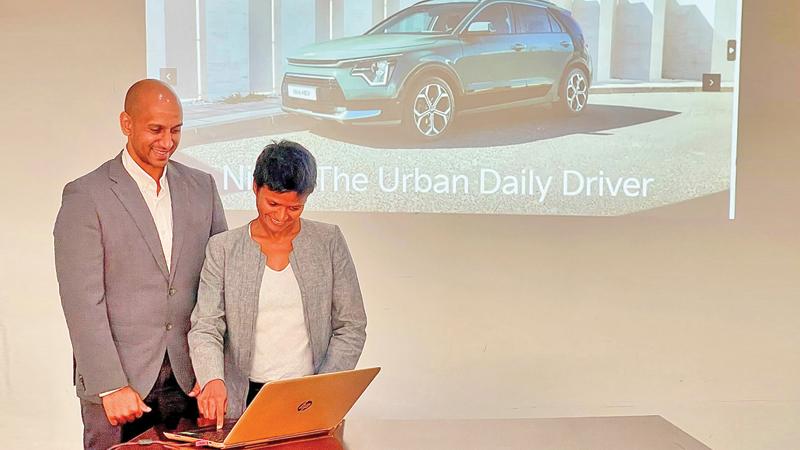 Kia Motors (Lanka) Limited recently relaunched its website with an array of new navigational features, including scrolling videos, captivating images, and distinctive tiles, all designed to embody the brand's global ethos of 'movement that inspires.'
The first Sri Lankan to summit Mount Everest and a Kia customer, Jayanthi Kuru-Utumpala launched the rebranded Kia website which was developed in accordance with the latest global brand guidelines of Kia.
The new website introduces the brand's new electric vehicle models, the Kia EV6, Kia Niro EV and Kia Soul EV, on its homepage. Although vehicle importsare still restricted, these electric vehicles are available on order for foreign workers who have received permits for remitting foreign currency to Sri Lanka. ia Motors (Lanka) Managing Director Andrew Perera said, "Our operations are driven by the same global aspirations and philosophy as Kia. As designers of movement, Kia is committed to creating mobility solutions that inspire and innovate. The new website not only reflects this commitment, but also improves user experience and navigation, giving visitors a true sense of the Kia brand when they browse." The website has been equipped with a range of features including seamless integration with the Kia Lanka mobile application for service requests, convenient access to Kia after-sales services, and a handy 360 degree Visualizer feature that enables site visitors to view a vehicle from every angle. The website also permits users to browse and explore Certified Pre-Owned automobiles available with Kia Lanka, stay up to date with the brand's latest developments in the country and globally, and locate a Kia branch or dealer closest to them.
Designed and developed by 3CS, the website is fully responsive and works seamlessly with all mobile platforms and devices.