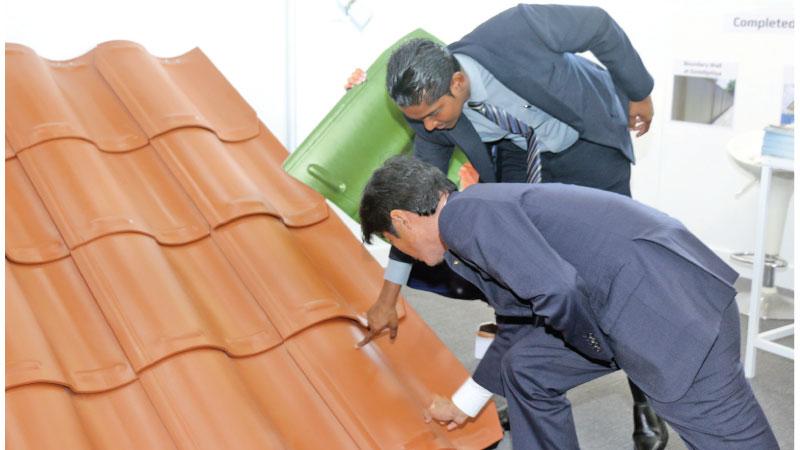 The much anticipated 'Build Sri Lanka' housing and construction exhibition organised by the Chamber of Construction Industry of Sri Lanka (CCISL) commenced at the BMICH on Friday. Acting Ambassador of Japan to Sri Lanka, Kotaro Katsuki was the chief guest.
The exhibition which ends today, showcases products and services of 200 stalls from six categories; building and construction materials, interior decor, landscaping and outdoor living, tools and equipment, construction and consultancy services, construction machinery and industrial vehicles and overseas exhibitors.
CCISL President Jayantha Perera said, "The success of the construction industry is the culmination of the success of its stakeholders, that is contractors, architects, engineers, surveyors, related professionals and various suppliers." He said that working together is imperative for the industry's survival when it is facing serious challenges due to many uncontrollable reasons."
Japan's Acting Ambassador Kotaro Katsuki outlined Sri Lanka's long standing friendship with Japan and the many development projects the country had undertaken in the island nation while recognising the CCISL and the construction industry for their continued dedication towards national development.
"On February 4, 2011, commemorating the 60th anniversary of its establishment, the Central Bank of Sri Lanka issued a series of new rupee notes with special images under the theme of development, prosperity and Sri Lankan dances. Among them are; Colombo Port on the Rs 20 note, Mannampitiya Bridge on the Rs 50 note and Ramboda tunnel on the Rs 1,000 note. All of these projects have been carried out with the view of ensuring the Sri Lankan people their use for a long time including the economic and social line and the development of the country. Partly, they also symbolise the long standing friendship between Japan and Sri Lanka".