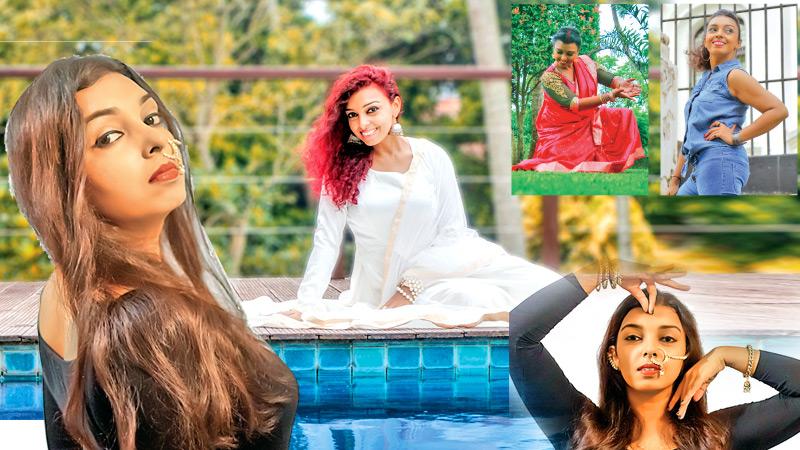 Anu Madhubhashinie is a professional dancer, dance instructor and choreographer, an artist, performer, and a writer. She conducts online dancing classes and workshops for other aspiring dancers. She is also a graduate of English Literature, and has a Masters Degree in sociology.

Progressively making her way into the local entertainment scene, she is pursuing her childhood dream of being a well-known performing artist. She is also moving up the Indian entertainment ladder as she has received numerous offers for creative tasks at work thanks to the popularity of her dancing videos. It won't be long until it enters the international scene.
Madhubhashinie has trained in Bharatanatyam, Kathak and Kandyan and Sri Lankan folk dancing. She honed her talent at a very young age, and after that participated in a number of school plays, always specializing in classical music, both Western and Oriental. She didn't hesitate to perform whenever she had the chance. She enjoys performing. She is now specialized in Indian freestyle, folk, classical and contemporary.
"My favourite style of dancing is Barathanatim and it is ballet to watch. One of my biggest inspirations when it comes to oriental dancing is Guru Shobana, she is a classical dancer, and her grace and style really fascinates me and I also like the Chithrasena dance academy, currently run by Theja Dias. I really like the culture that they have created. It is classical dancing with a bit of a contemporary touch and some folk influence. It is very fascinating and inspiring to see."
On being asked to describe herself as an artist, she said, "I like to find a balance between what is traditionally thought and then be explorative. Even when I make productions, I like doing fused productions, because I think it is important to protect the core of a certain art and also be trendy. And I want to be known as an artist who does that."
Other activities
Besides dancing, Anu is also a musician, she writes, melodises, and also sings. Her music is original and she has done some cover songs, which are available on Youtube, she said that she is planning to do some collaborations with some local artists.
"Music is a significant part of who I am, and I also sing. My brother Kushan Chamupathi and I have worked together on several music videos, and we are our primary working partner," she said.
Anu is a talented actor and gifted writer among others. She exclaimed that she wishes to be part of some memorable roles if given the opportunity. According to her, working with some of the best directors and actors of our generation would be an accomplishment. As a writer, Anu has worked with brands related to academic and corporate sectors. She is also trying to release a poetry collection in the near future.
Speaking of her plans for the future, Anu said, "I wish to collaborate with some of South Asia's best artists and eventually reach out to other continents. Make some movies where I can show off my acting and dancing talents. a figure or character that the audience will remember for a long time. Maybe you'll soon direct, produce, and choreograph for movies and music videos."
Anu has her plateful for this year, she plans to release three music videos by the end of the year and continue her online dancing classes and resume her workshops from August onwards. "I had all these singles planned to be released in 2020 but then the pandemic and everything else that followed it got delayed and this year I am ready to release all these things".
If you are interested in finding out what Anu is up to please follow her on her social media down below or check out her youtube channel.