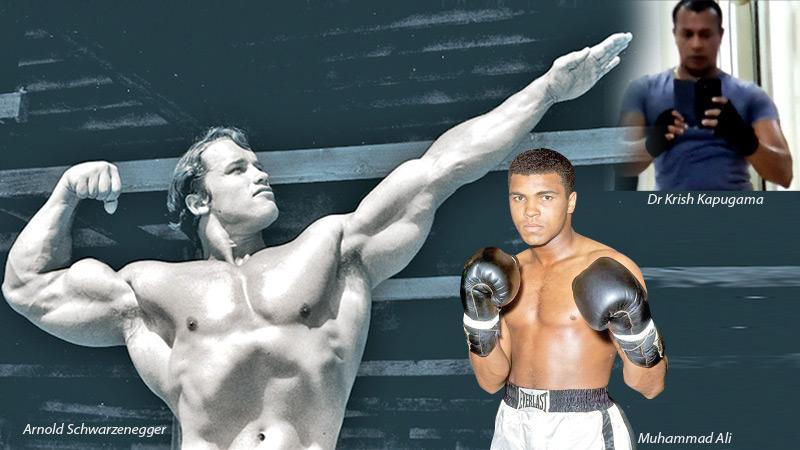 In my poignant artistry, I save my bountiful goodwill for Dr Krish Kapugama, a flyer, an entrepreneur, and a military strategist.
Dr Krish takes me into different dimensions. At times, he reminds me of the legendary boxer Muhammad Ali. My recollection on Ali is justified by Dr Krish's intrinsic zeal and fervour for the sport that brought fame and notability for Ali whose physical vigour may be Dr Krish's solicitude or disquietude.

Just a glance that I take at Dr Krish's snap, he interrupts my silence and reminds me of "The Rumble in the Jungle" - one of Ali's most famous fights. Resembling moderately like George Chuvalo, Ali is the most tenacious and vigorous opponent, I am convinced that Dr Krish, treasures a picture of Liala Ali, the glamorous pugilist daughter of Muhammad Ali.
Suppressing my sheer envy and resentment, I begrudge Dr Krish his affinity for Chanel Iman and Joan Smalls, pugilists turned models. Dr Krish, in other words, sets me into a bodybuilding hallucination where Arnold Schwarzenegger, actor cum bodybuilder turned policymaker is my metaphor for Dr Krish. Schwarzenegger, a former governor of California is the jack of all trades. Dr Krishapparently enjoys watching through the movies "Terminator Series" that made Schwarzenegger an actor which ultimately brought him into the limelight.
Big Ron
I divide my goodwill evenly between Ronnie Coleman and Dr Krish. The former was fondly known as "Big Ron" and I may compel myself to call him affectionately Big Ron too. Big Ron is acclaimed as the greatest bodybuilder in every professional bodybuilding gym and identity who may even be a source of inspiration for Dr Krish. "YEAH BUDDY" and "LIGHT WEIGHT BABY" - the most prominent lines that Big Ron uttered on his fondness for professional bodybuilding still linger through my ears.
Big Ron has got eight Mr Olympia titles, seven Arnold Classic medals and thirty-six more medals in bodybuilding to his credit. Big Ron also treasures his "Canada Pre Cup" and "Russian Grand Prix", bagged by him in 1995 and 1997 respectively. Lee Haney is Dr Krish's other favourite. Haney cherishes eight Mr Olympia titles and his dominance on the remarkable sport of bodybuilding had been overwhelming for eight consecutive years during which he almost became the most significant synonym of bodybuilders of all time. I enjoy being in the grip of my obsession for the iconic professional bodybuilder Haney, who was one of the most celebrated of his calibre along the corridors of the International Federation of BodyBuilding and Fitness (IFBB). Haney made his professional debut in 1983 in Atlantic City, New Jersey where the world pro championships were held.
President Bill Clinton is said to be an ardent fan of Lee Haney and as a mark of respect, the Clinton administration appointed Haney as the chairman Council on physical fitness and sports. The utter most momentous significance, spotted in Haney, is the fact that he had attained the most remarkable and fantastic physique in the world.
Monster
Affectionately and popularly known as the monster of the bodybuilding profession, Dormans Yates is well known and distinguished for his massive size, high intensity training, hamstrings and shredded glutes. The year 1991 was crucial for Yates in which he made his professional debut at the New Castle Pro.
Yates is also among one of the most celebrated and acclaimed bodybuilders of all time whose shelf of medals is decorated with six Mr Olympia titles which he won for five consecutive years from 1992- 1997. I quote American motivational speaker Les Brown who declares that merely just wanting a certain thing in particular is not absolutely sufficient enough, not you ought to, but you must develop hunger for it. The legendary boxers and the bodybuilders across the world bear testimony to the statement made by Brown. I have got the same emphasis on the declaration made by Crag Cecil, Supermen; 'Building Maximum Muscle for a Lifetime' that sheds light on one of the most inspiring statements which goes onto state that "The application of consistent logical effort, over a prolonged period is the key to reaching your physical muscular potential".
It is well known that bodybuilding arguably needs an abundance of discipline, untiring efforts, a great deal of motivation and a source of inspiration. A concerned party may call it slog, travails and drudgery, but the bottom line remains the same, provided that you are determined with an ample degree of durable interest and passion, you get relentlessly prepared to put it in the work and start to lift heavy.