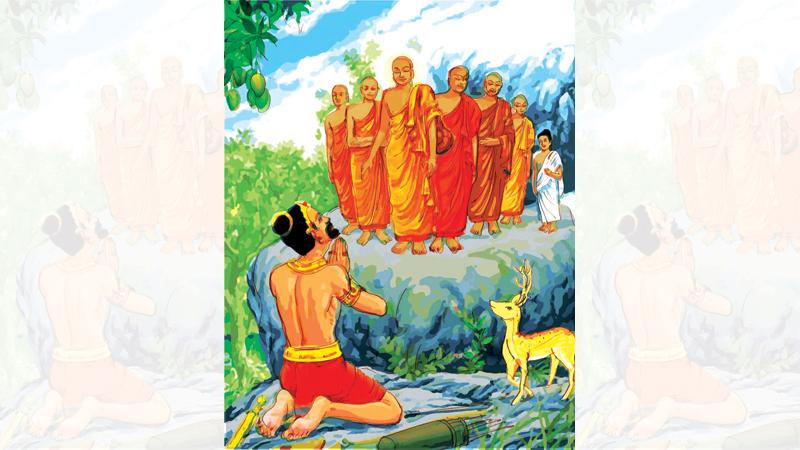 The most revered Poson Full Moon Poya which marks the arrival of Arahat Mihindu Thera and Buddhism in Sri Lanka falls on June 3. Accordingly, the State Poson Festival to coincide with National Poson celebrations will take place at the Mihintale Raja Maha Vihara this year.
The theme of this year's State Poson Festival is 'Let's arise, awaken, engage and protect the Dhamma preached by Arahat Mihinda Thera'. This year's festival will be the 2,331st in the country.
It is expected that around one million pilgrims will visit the religious site for the festival. A Pirith chanting ceremony will be held from May 25 - 1 June while May 31 - 6 June has been named the Poson Week.
The festivities will be led by the prelates of the three main Nikayas and will be attended by President Ranil Wickremesinghe and other guests. The Poson Aloka pooja will be held from June 2 – 4.
Special cleaning programs of the site have now commenced while a program to prevent polythene and plastic being brought to the site will also be initiated. A large number of dansalas will also be held during the time organised by the Mihintale Pradeshiya Sabha, MoH office, Archeology Department, Mihintale Police Station and others.
The Mihindu perahera will take place on June 2. It will go through Isuru Uyana Mawatha, to the main street and end at the Katu Seya. Life Guards will be on duty during the entire week with the support of the Sri Lanka Navy (SLN), Sri Lanka Police, Civil Security Department (CSD) and the Disaster Management Center (DMC).
Transport facilities will be provided by the Sri Lanka Transport Board (SLTB) and the North Western Province Passenger Transport Authority. The Mihintale Hospital and the Sri Lanka Army (SLA) will also provide emergency health care during this time. The Poson Committee has decided not to use loudspeakers during the celebrations to prevent them from becoming a nuisance to students sitting the Ordinary Level (O/L) examination.
Elaborate festivities will not take place this time and instead, Dhamma sermons and discourses including other religious programs will be held in the Anuradhapura Atamasthana (Eight Sacred Places of Worship) and the Thanthirmale religious site. Most of these programs will be telecast live on local TV stations.
Liquor and meat will not be sold in the area during the Poson Week from May 31 to June 6.