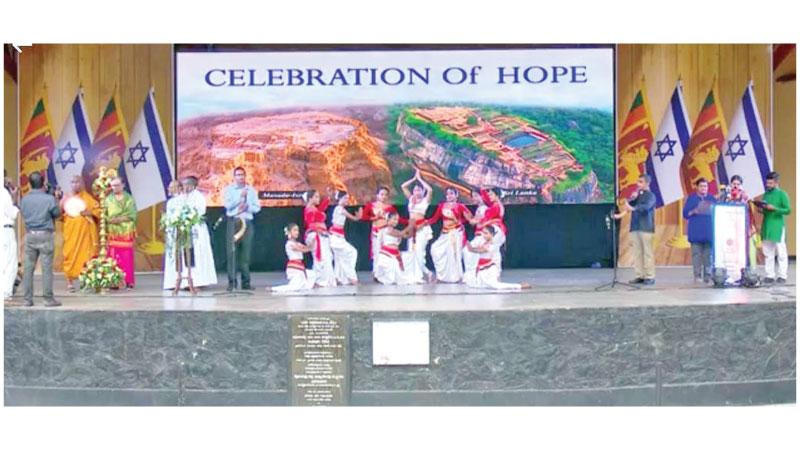 The Israel Sri Lanka Solidarity Movement (ISSOM) on Sunday organised an event on 14 May at Vihara Maha Devi Open Air Theatre to mark the 75 years since the Jewish State's establishment. The event was attended by a crowd of around 2,000 who expressed solidarity with Israel.
The event was also graced by an interfaith and interethnic panel which also included a delegation of Sri Lanka's indigenous people.
Last Sunday's event showcased Sri Lanka and Israel's historic interactions going back 3,000 years when the island traded spices, precious stones and exotic fauna with ancient Jewish kingdoms.
This was followed by short films on Israeli innovations in the field of medicine, education and agriculture that it is open to share with Sri Lanka. Video greetings were also shared from Israel including members of the Knesset.
The Kelaniya University dance troupe performed a rendition of the Jewish folk song 'Nagila Hava' with a Sri Lankan twist.
Addressing the event, Chairperson of ISSOM Shanuka Elangasekere said Sri Lanka's ties to Israel began as soon as the Jewish State formed. "The father of our nation D.S. Senanayake was among the first world leaders to recognize Israel." Sri Lanka has a history dating back 3,000 years with Israel and we need to reestablish this relationship, she further said.
Meanwhile, Lemuel Melamed, the Head of Israeli House Sri Lanka extended warm wishes to all Sri Lankans. "All these innovations are not advertisements; these are things Israel as a startup nation is open to share with you". He also said that Israel can also learn a lot from Sri Lankans on overcoming difficult times.