The parents and relatives of Indusara Pathirana, a 29-year-old journalist, writer, singer, and artist bravely facing Stage 4 Melanoma cancer are appealing for help from generous donors for her treatment.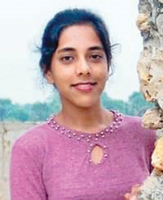 Indusara, a Southlands College Galle and University of Peradeniya alumna, is in urgent need of your support. She was a former journalist at the Sunday Observer.
Melanoma is a severe skin cancer, extremely rare in South Asia, and Sri Lanka lacks the experience to treat it. Stage 4 melanoma, also known as metastatic melanoma, is the most advanced stage of the disease.
Indusara's treatment will take place in Singapore, where she will receive life-saving Dual Immunotherapy every three weeks. Each dose costs 7.2 million LKR (approx. 30,000 SGD or 22,500 USD).
The outstanding expenses for travel, lodging, medical treatment, and diagnostic procedures (including Genome Test, PET Scan, MRI Scan, and Biopsy) in Singapore will be covered by the family through a combination of their savings and contributions from other relatives.
However, the total cost is overwhelming and after three months (four doses), her treatment will be reassessed and adjusted. Indusara's family is struggling to bear these expenses, which is why your support is invaluable. The family kindly requests your help in funding Indusara's treatment. Any donation, big or small, moves her closer to recovery. If unable to donate, please share her story.
Her bank account details are: A/C Number 8270042180, Commercial Bank, Galle City Branch.